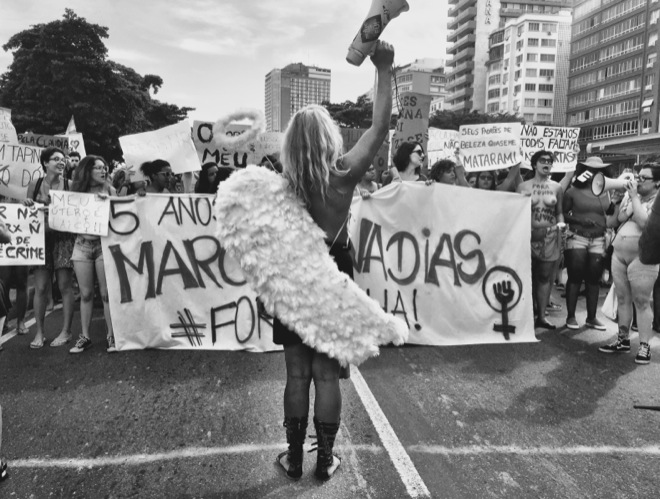 Rio Slut Walk // Marcha das Vadias
November 14, 2015 — Photos from the 5th annual Rio SlutWalk, or Marcha das Vadias, in Copacabana Beach. Matias Maxx did a great write-up on what went down for VICE Brasil, so I'm going to translate some of what he wrote here:
A few weeks ago, on October 21, the Constitutional Committee and Justice of the House of Representatives approved legislation 5.069/2013, authored by Eduardo Cunha, the president of the House of Representatives. This legislation prohibits the sale of the day-after pill and imposes measures to restrict rape victims' access to abortion.
Abortion is already illegal in Brazil except in cases of rape, pushing an estimated million women a year to attempt self-abortion or visit clandestine clinics. In 2013 there were over 200,000 hospitalizations due to abortion complications. Death by attempted abortion is the fifth leading cause of death for Brazilian women.
By removing access to the day-after pill, Cunha's proposed PL5069 would only increase the number of unwanted pregnancies, abortions and deaths by attempted abortion. It would also force rape victims seeking an abortion to "prove" they were raped in order to receive the service.
According to the Marcha das Vadias Facebook page, the proposed legislation "attacks principles of the dignity of women and places them, once again under the scrutiny of police authorities and the judicial system, so that we must prove our innocence for a crime that we were the victim of."
A week later, more than 3,000 women took to the streets in downtown Rio demanding Cunha leave office.
Note: Cunha is also the mastermind behind laws proposing a "gay cure", the removal of indigenous people's constitutional rights to their land, and the right of politicians to censor content they don't like on the internet — and access the home address and social security number of the person who posted it. No joke.
"FORA CUNHA" (Out, Cunha) also echoed through the Rio version of the Marcha das Vadias, an international protest against assault and rape culture.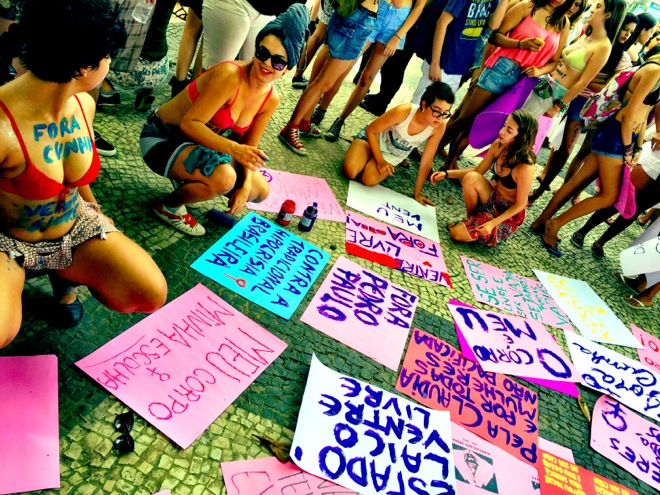 Fora Cunha.
My body, my choice.
Secular state, free womb.
My body is mine.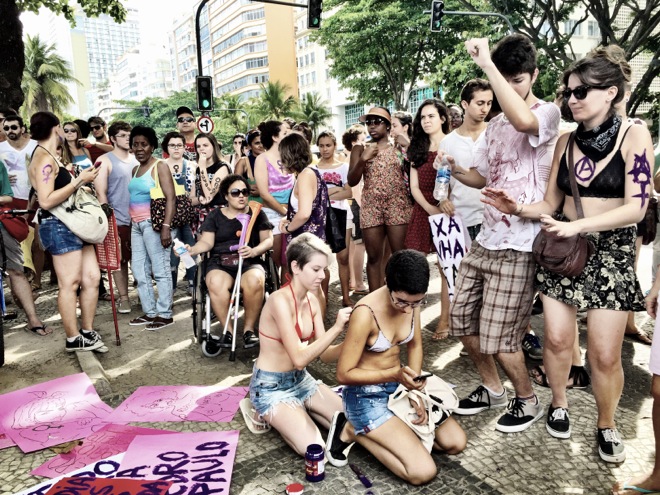 Body signage.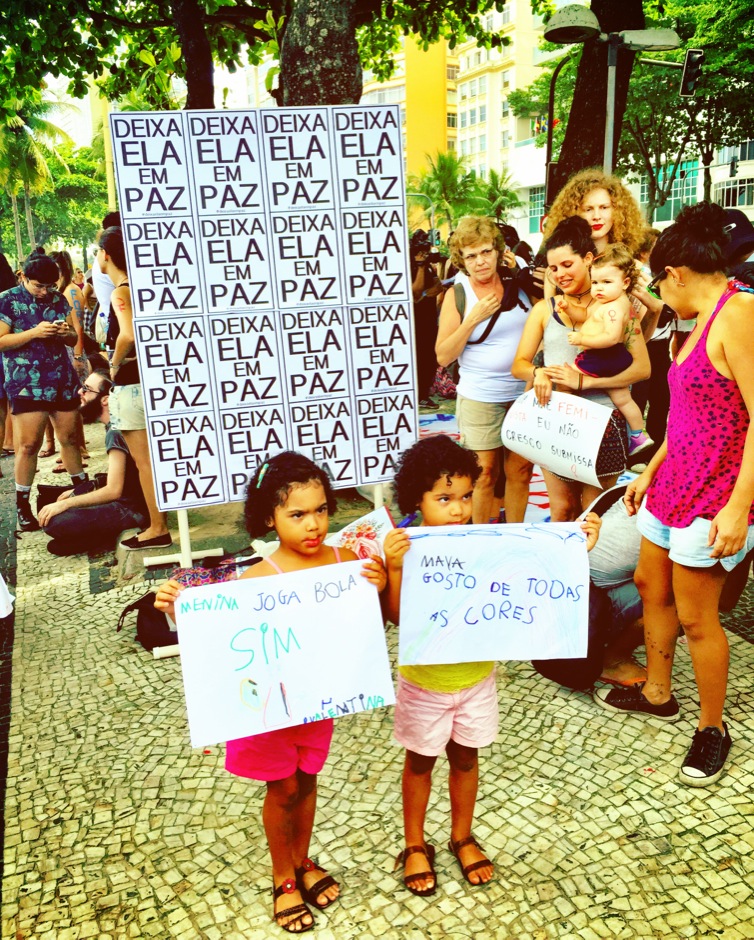 From the amazing Rio street project, "Deixa Ela em Paz" (Leave her in peace), to combat catcall culture:  
Girls also play soccer.
I like every color.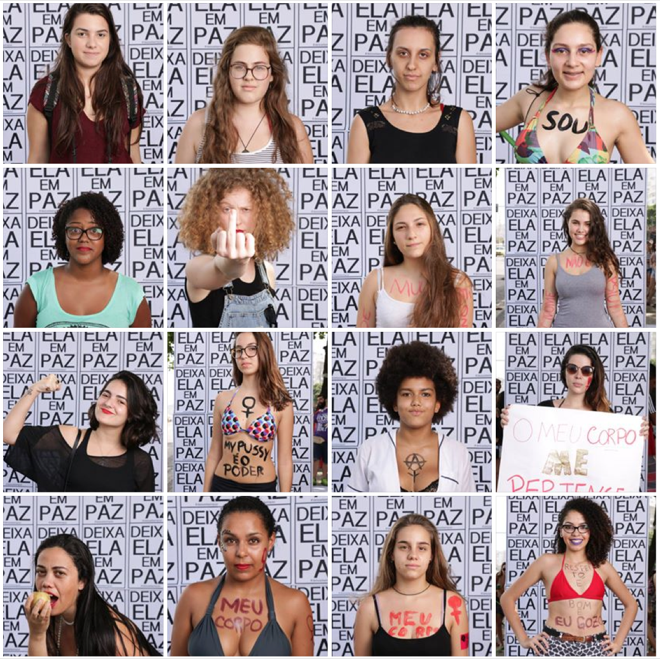 My pussy is my power.
My body.
My body belongs to me.
Check out more images from the Deixa Ela em Paz installation at the Rio SlutWalk here.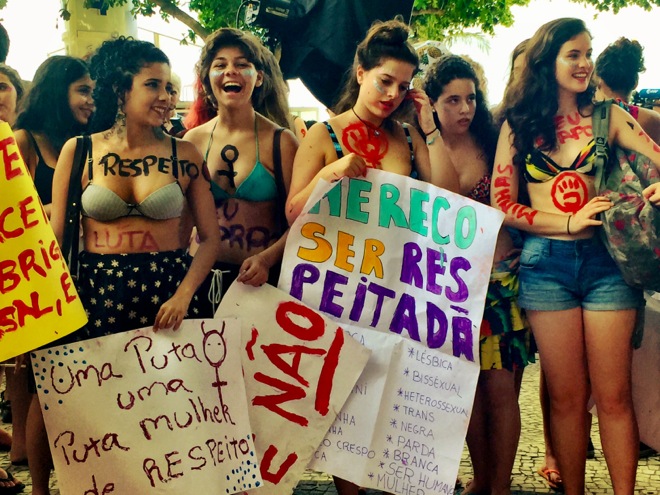 Respect.
Fight.
I deserve to be respected.
Respect for whores.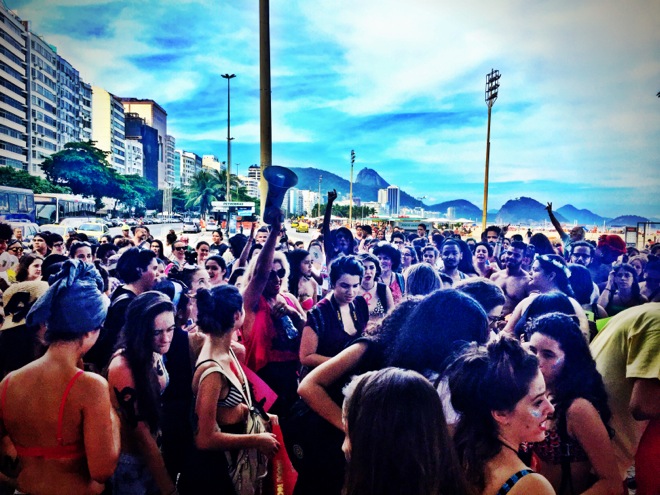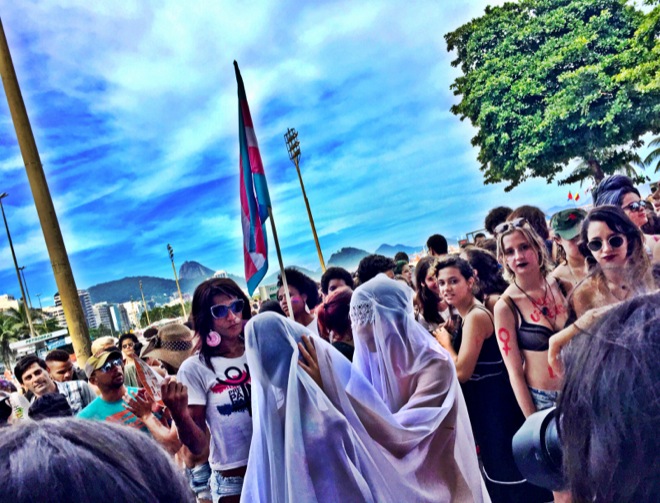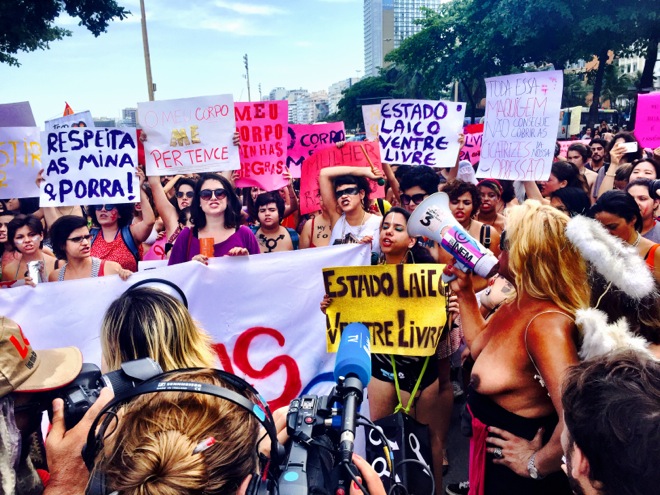 And then came Indianara:
Around 3pm, when things were starting to heat up, Indianara showed up dressed as an angel. Indianara is a well-respected activist in Rio who has been fighting for years alongside the trans and sex worker movements, and has been a fixture at the Rio SlutWalk since the first one in 2011.
I exchanged an idea with her about the renovation of the movement: "The 2015 SlutWalk was constructed by the youth: new sluts who organized and carried forward marching and shouting. A lot of high school and college students. This is really good, it's a renovation that we want to see continue, in part because we don't live forever. We hope we'll last a long time, but at some point we'll die. They will be and already are the future. I think this is excellent."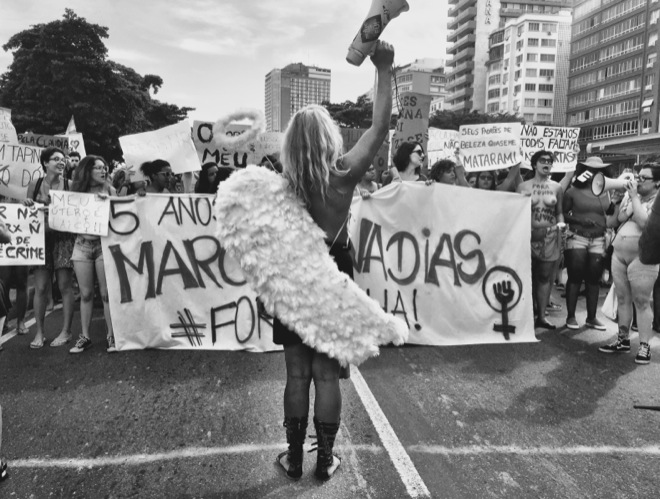 Indianara told me another reason she loves the Marcha das Vadias is because it includes segments of the human rights movement that are often excluded by the feminist and Black Power movements in Brazil: "Trans, gays, whores, everyone. They even add 'and the whores' to the end of all the chants."
Matias says he was surprised to learn the same thing at a recent debate in Rio about prostitution:
The Rio SlutWalk is one of the few prostest that openly defends the regulation of prostitution and the rights of transsexuals. This is kind of surreal: After all, the SlutWalk began with the idea that women should be able to dress however they want in public without being assaulted for it.
Criticizing prostitution or transsexuality within this protest would be as bizarre as saying, "I don't deserve to be raped, but she does!" So the Rio SlutWalk, in this sense, is quite inclusive and coherent.
A group of travestis were carrying signs that said "Prepara Nem" (Prepare for the ENEM, a Brazilian college entrance exam). I was speaking with one of them, named Lu, who explained:
Prepara Nem is a prep course for tranvestis and transsexuals that has already changed the lives of many travestis who were and continue to be sex workers. Except that now, they don't depend on only sex work to survive….
I have the upmost pride for being part of a project where I can sleep easy and wake up thanking God knowing that instead of having to work the street to make enough money for today, I can go to school and study a little more so I can be a little more than I already am.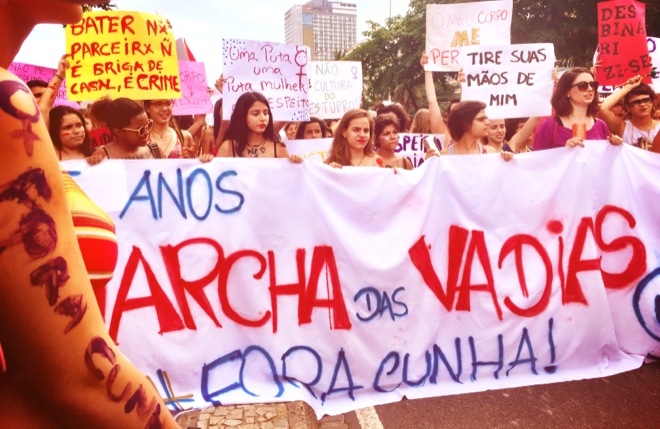 The march begins.
#FORACUNHA!
My body belongs to me.
Take your hands off of me.
Beating your partner is not a couple's quarrel, it's a crime.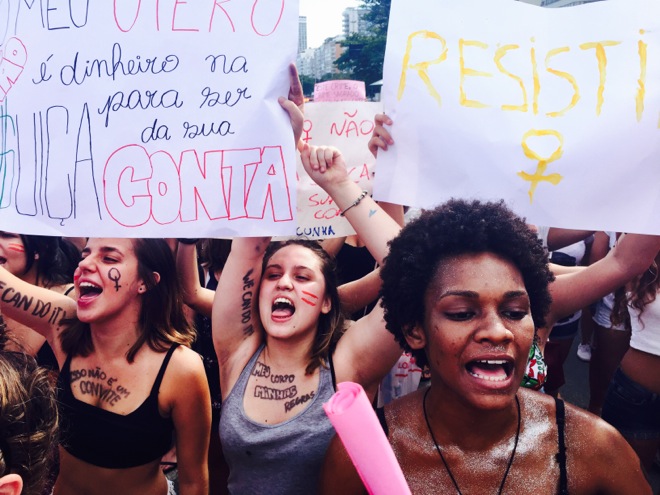 My uterus is not money for your Swiss bank account.
[This sign is directed at Cunha, who is under investigation for corruption and money laundering and hiding them in a Swiss bank account. Cunha is also under investigation for taking bribes for Petrobras for the purchase of an oil field in Africa.]
My body my rules.
This is not an invitation.
We can do it!
Resist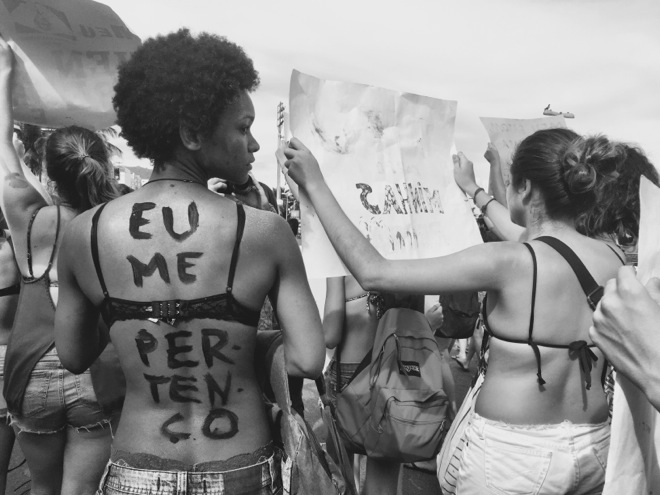 My body belongs to me.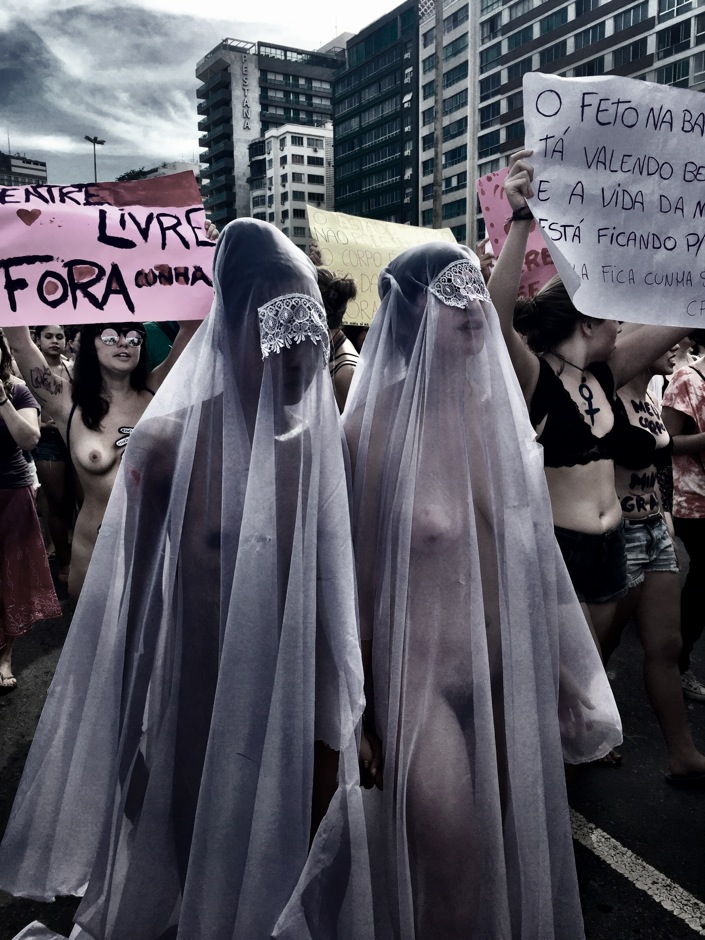 Free uterus.
#FORACUNHA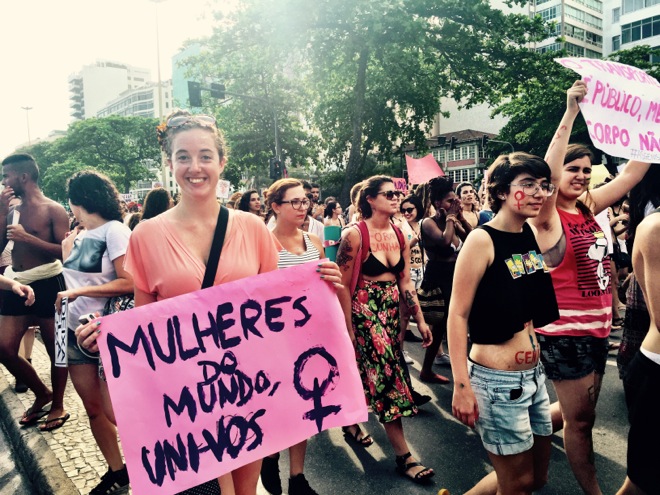 Women of the world unite.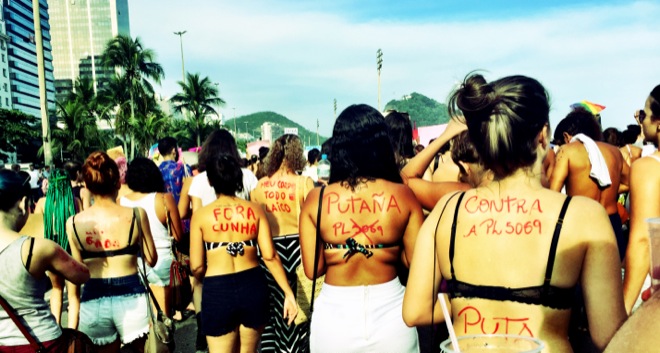 #FORACUNHA
My entire body is secular.
No to PL5069
Whores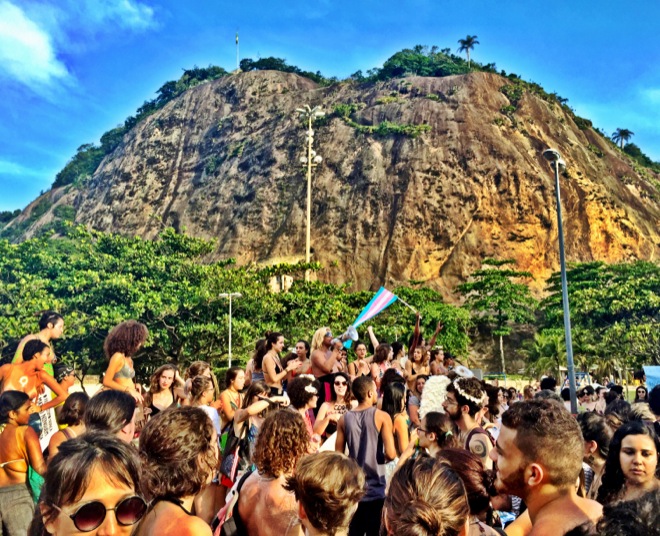 The Marcha reaches Leme, the far end of Copacabana Beach.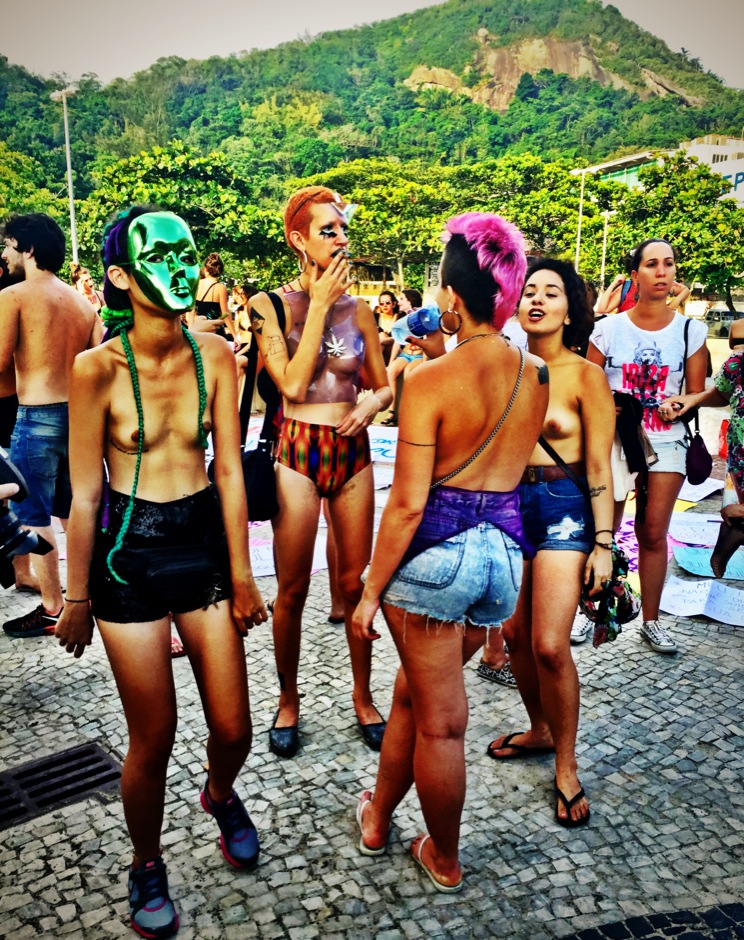 Smoke break.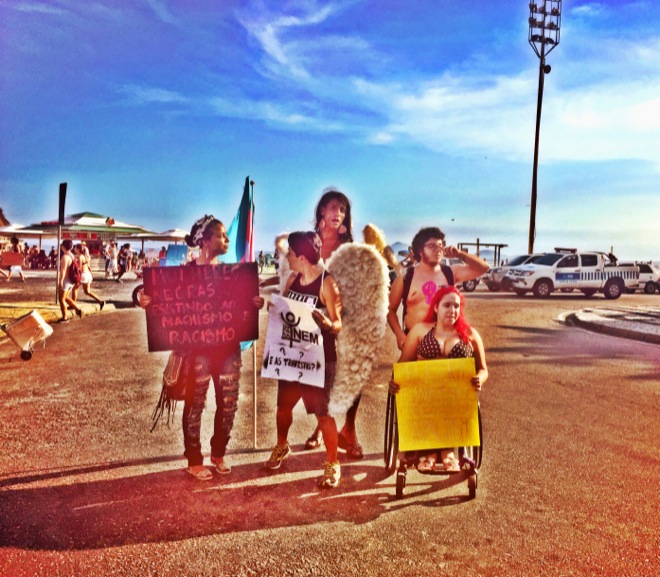 Black women resisting machismo and racism.
And the travestis?
Check out Matias' photo-set for VICE here, and read on about women's issues and gender violence in Brazil in this round-up by activist news site RioonWatch.org: A Feminist Spring? Women and Women's Issues on the March in Brazil.