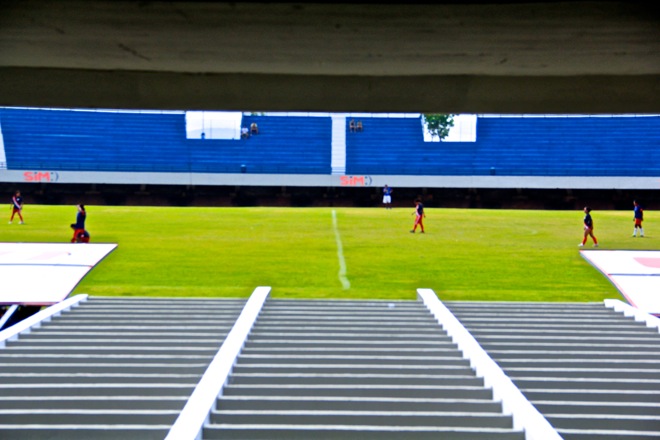 The World Indigenous Games went down last week in Palmas, Tocatins, a landlocked state in the middle of Brazil's agro-business heartland.
Brazil's Ministry of Sports hosted the event with the UN Development Program (UNDP), bringing together 24 tribes from Brazil and as far as Canada, Lapland, Mongolia and New Zealand to compete in sixteen events from running and swimming to archery and tug-of-war.
Widely criticized by Brazilian tribes as a strategically-timed photo-op the same week Brazilian Congress passed a bill to un-do their tribal rights to their land, the games were nonetheless a powerful gathering of Indigenous groups on an unprecedented scale. "I'm at a loss for words," said Reinaldo Quispe, an Aymara Indian in the Bolivian delegation. "I never in my life thought I would meet my brothers from the different tribes around the world."
I flew to Palmas to visit my dear friend Temryss Xeli'tia Lane, from Lummi Nation, a UCLA grad student in American Indian Studies researching Indigenous futebol, Nike N7 Ambassador, and member of the American delegation in Palmas.
Futebol was one of 16 sports played at the World Indigenous Games, and was billed as the only "occidental" one they included, due to widespread popularity among the indigenous groups represented. Aspects of futebol were also present in tribal demonstrations of Jikunahati, a kind of futebol Brazil's Paresi Haliti plays using only their head, and Kagot and Ronkrãn, sports that have aspects of futebol (soccer) but also involve arrows and coconuts, respectively.
"The games were incredible to watch," Temryss told me. "Indigenous soccer clearly has a place in the diverse Indigenous cultures for girls, boys, youth, and anyone that wants to kick a ball. Its a community game.  It was really empowering to witness and celebrate Indigenous survivance, endurance, and strength through the beautiful game."
32 tribes sent teams to compete in futebol. This was the Canada vs Canela game, which Canada swept 13-0 before going on to win the championships.
Canada's team had players from Mohawk, Kahnawake, Akwesasne, Kanasetake, Kwakwaka'wakw nation in British Columbia, Quatsino First Nation BC, Tla'amin First Nation in Powell River, BC.
Canela (cinnamon) is the name two of Brazil's tribes in the state of Maranhão go by: the Ramkokamekrá and the Apanyekrá. I'm not sure if one or both were represented here.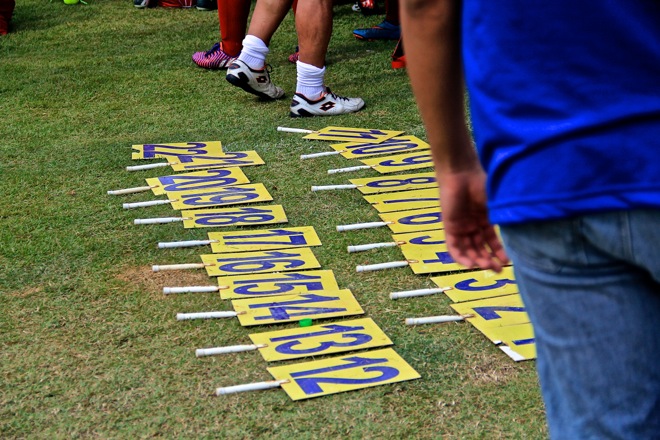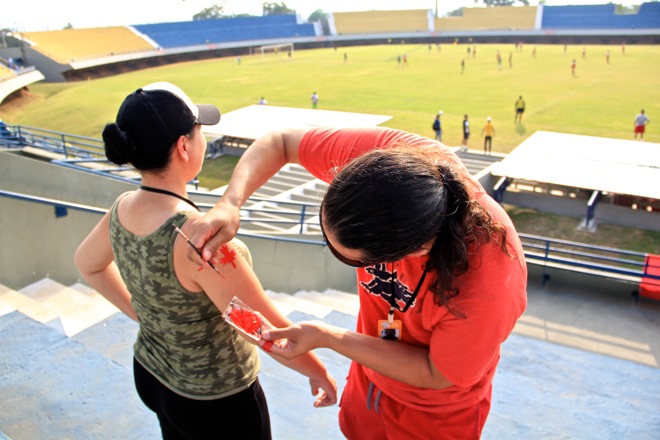 Team Canada.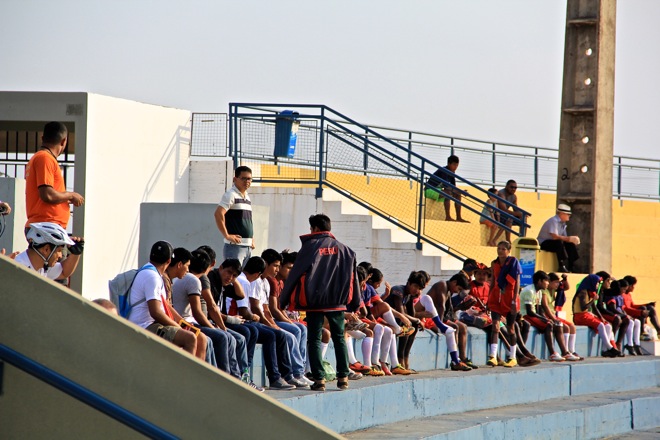 The 7am crowd.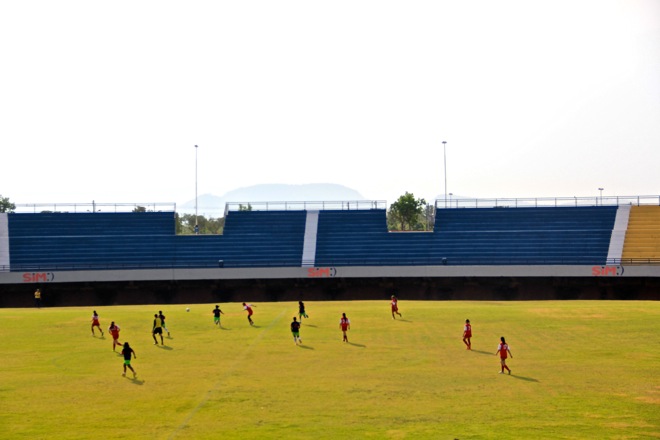 Game time: 7:30am on October 25, 2015.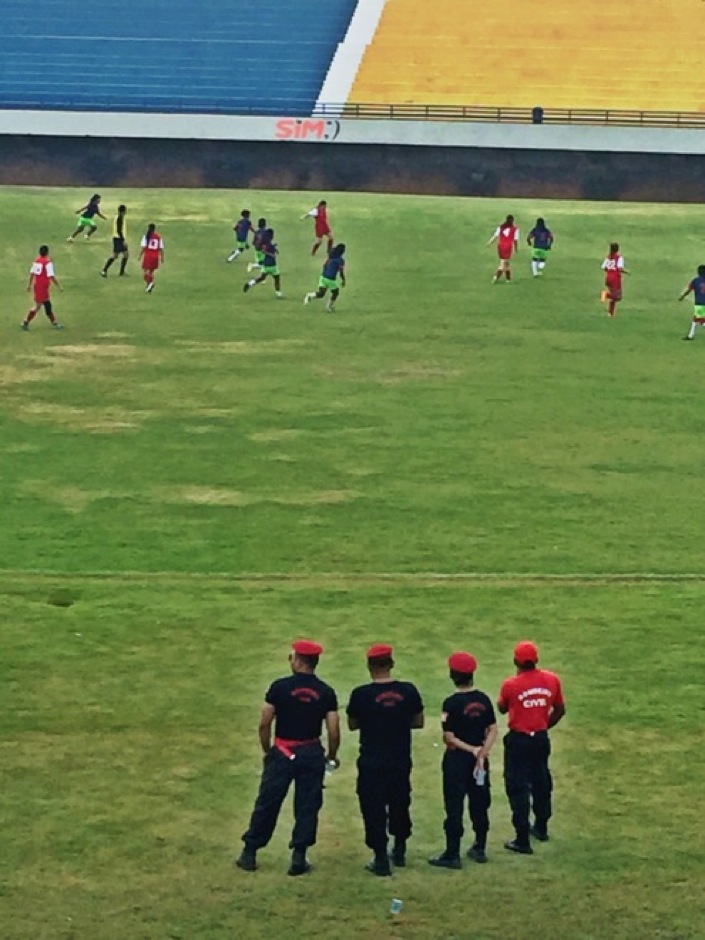 Firefighters in attendance.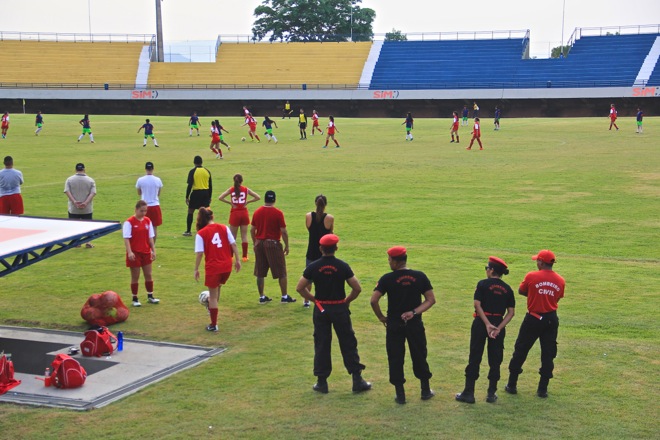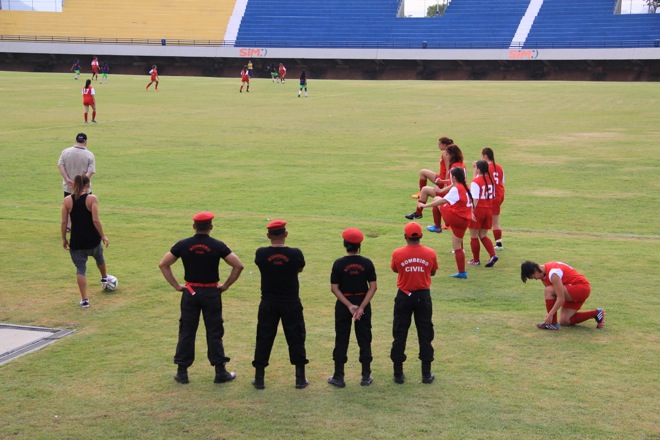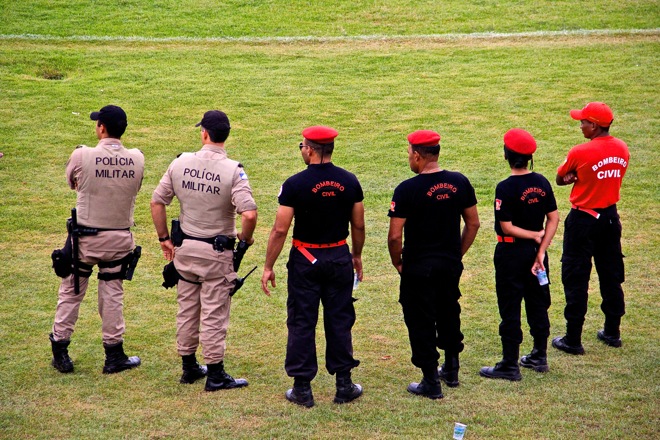 And military police.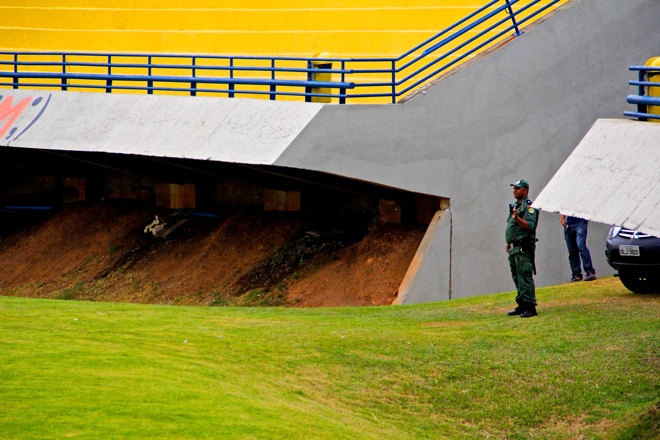 And security taking photos.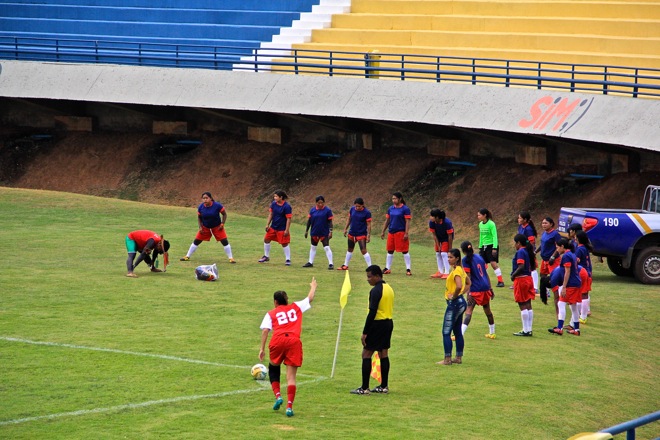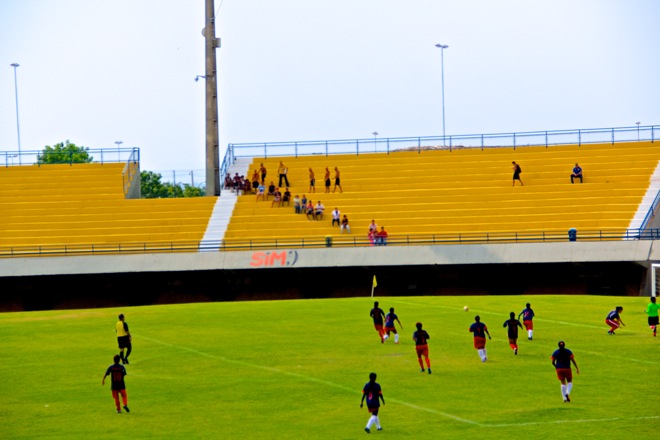 Canada sweeps 13-0.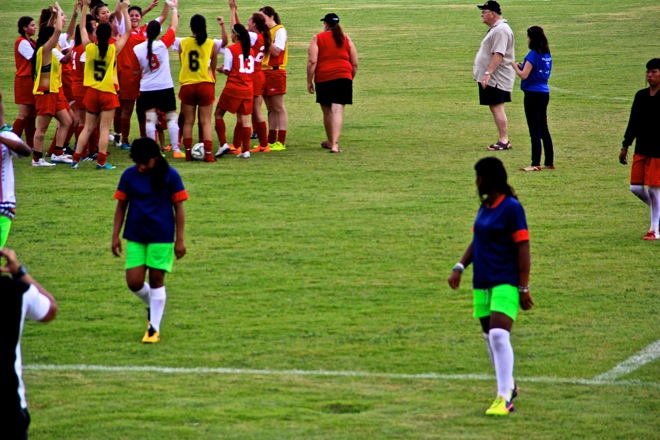 Temryss says Canada has a rich history of football — "Over a 100 years of Indigenous players and community invested in the culture of football."
She says Canada's coach Dan Thorne has been coaching indigenous soccer teams since 1990, when he established the Native Indian Football Association(NIFA), a B.C.-based organization devoted to developing indigenous soccer players.
"Dano intuitively started developing the women's team as an alternative to the male dominated sports space."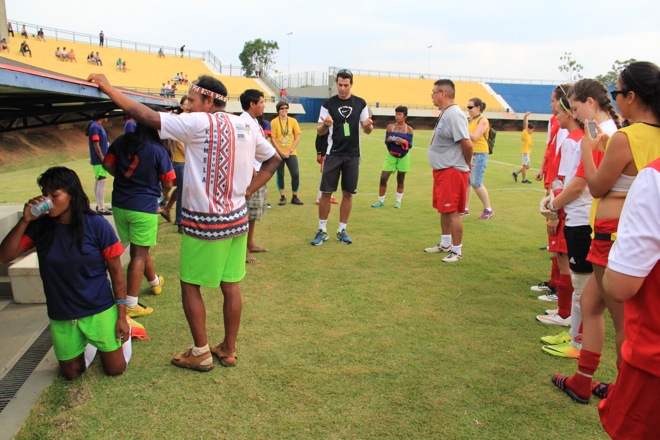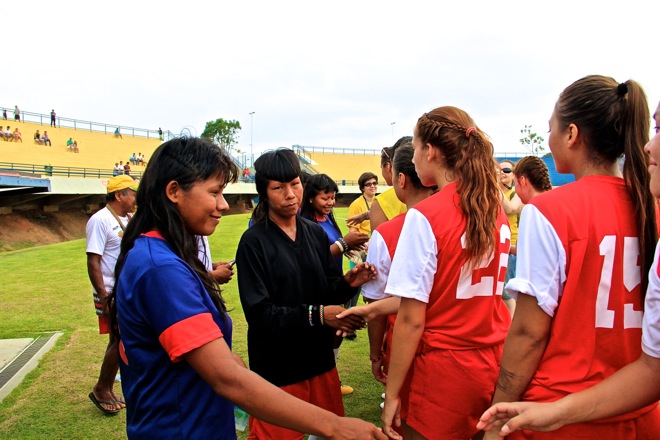 Come together.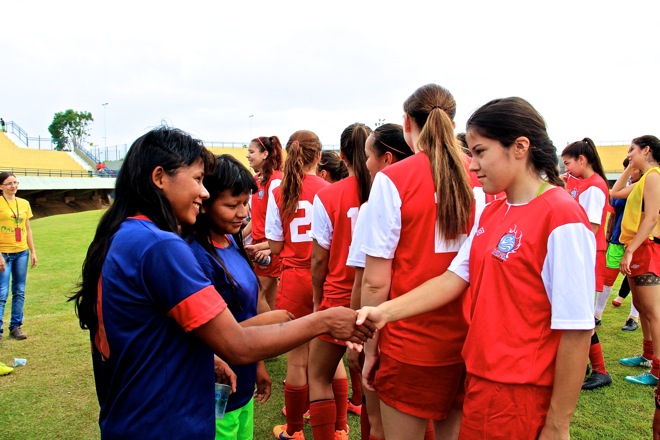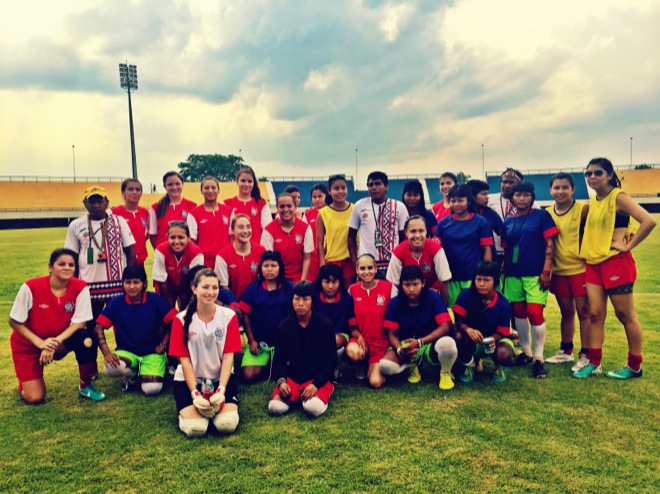 Canada will be hosting the second World Indigenous Games in 2017.
"Chief Willie Littlechild, Cree First Nation's 5x Hockey World Cup champion, the Canada Delegation leader, was talking to Dr. David Yorloff (US delegation) and I about two potential sites that would be located on a First Nation Reserve," Temryss told me. "It would compliment the already existing North American Indigenous Games that Littlechild is responsible for founding. Much like the World Indigenous Games was inspired by the Brazilian Indigneous Games then invited the world, the North American Games will utilize their infrastructure to create the second World Indigenous Games."
Where she plans on bringing together the first American indigenous women's futebol team.
See more photos from the World Indigenous Games: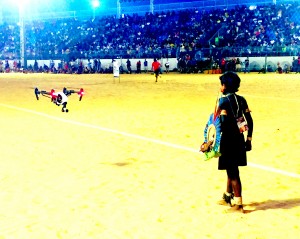 I flew to the World Indigenous Games to visit my dear friend Temryss Xeli'tia Lane, from Lummi Nation, a UCLA grad student in American Indian Studies researching Indigenous futebol , Nike N7 Ambassador, and member of the American delegation in Palmas. (link)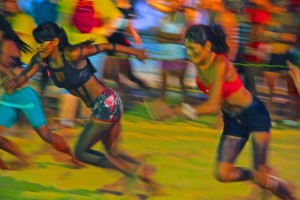 My favorite shots from the 100M kids, men's and women's heats at the World Indigenous Games in Palmas, Brazil. (link)