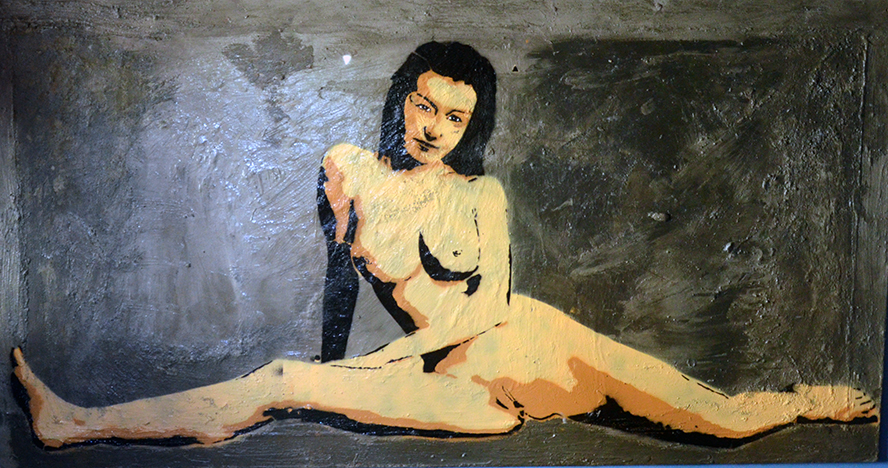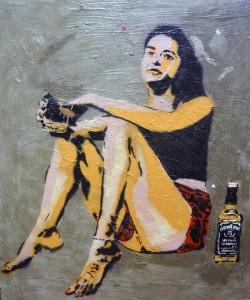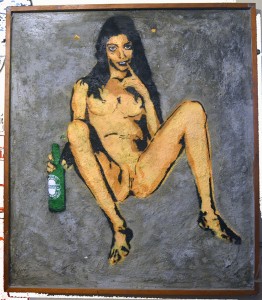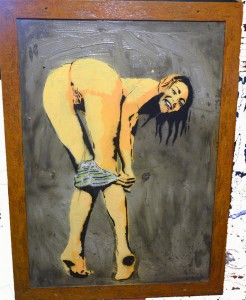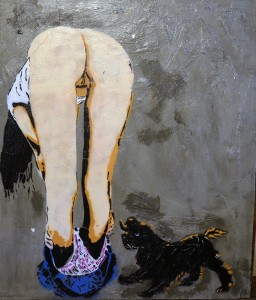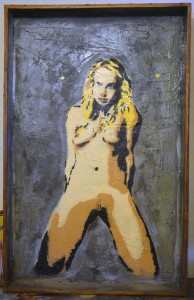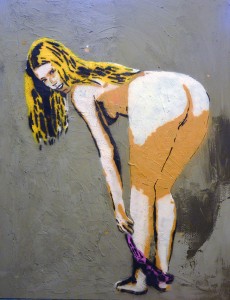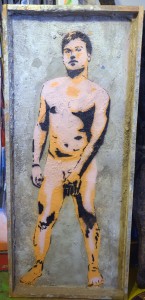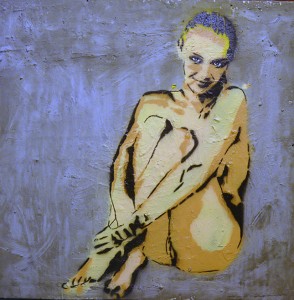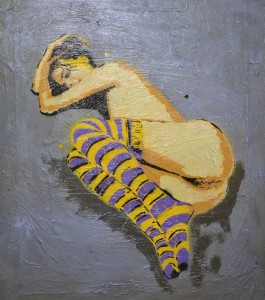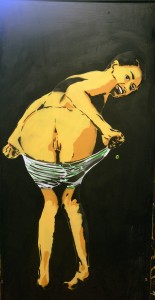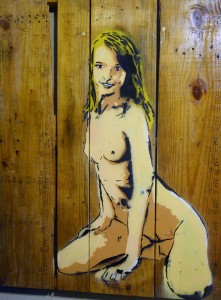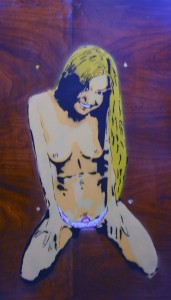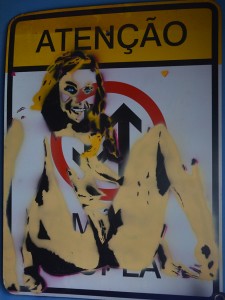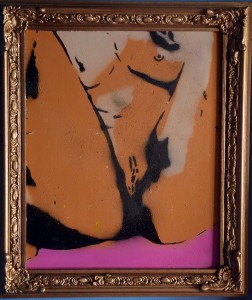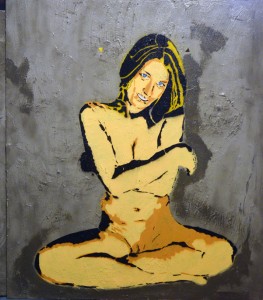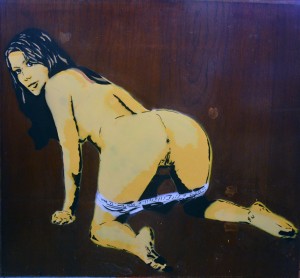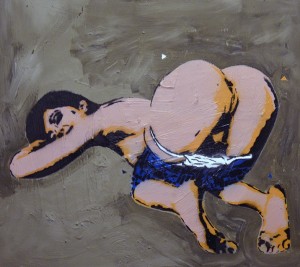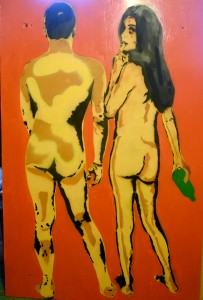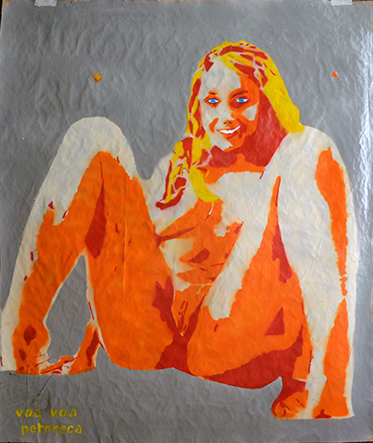 My whole artistic career I've painted my work with oil on canvas, I've painted different subjects like Ipanema and elephants, vases of burnt flowers, etc, always with an impressionist style with the use of concentrated paints in many layers. But for this entire thirty years of my career as an artist, I've always had the desire to explore hyper-real art, and separately, erotic art.
Following recent advice from the great Brazilian art collector Jean Borguicci, after I took over the wall in the front of his gallery and collection on Joana Angelica Street in Ipanema, I stopped painting definitively and dedicated my work entirely to graffiti. With the evolution of my stenciling technique, I've managed to photograph and transport to the walls people I know in carioca culture, with realistic images that conquer the public immediately. And just like a book gains life when it is written, and with Rio's climate as my accomplice, it naturally happened that I began to photograph people naked, starting with a couple of my European friends who were going to get married in a week and agreed to pose nude with their backs to my camera for my graffiti. Always with the promise of anonymity.
I started my erotic series at the end of 2013, spraying this couple on the walls of Ipanema to test the receptivity of the public. Success came fast, and it wasn't long before the journalist Fernando Gabiera raised the question on his show as to whether showing naked graffiti in Ipanema is possible.
Thus the book started writing itself naturally, with ever more naked characters, and the nudity becomes ever more daring and eroticized. For now nobody knows how far this will go.
— Andrea Brandani
Durante toda minha carreira artistica sempre pintei meus quadros em oleo sobre tela, pintei varios temas como ipanema, elefantes vasos de flores queimadas etc sempre em um estilo impressionista com um uso concentrado de tintas em muitas camadas.  Porem durante estes 30 anos de carreira artistica, eu sempre tive o desejo de explorar a arte hiperrealista e em separado a arte erotica,  seguindo um conselho recente do grandee conhecido  colecionador de arte brasileira, o Jean Borguicci, apos grafitar a fachada da sua galeria e acervo na rua joana angelica em ipamena, parei definitivamente com a pintura e passei a me dedicar somente ao grafiti. Com desenvolvimento da minha tecnica de stencil, consegui fotografar  e transpor para as paredes os personagens conhecidos da cultura carioca, com imagens realistas que conquistaram o publico de imediato.   E tal qual um livro que ganha vida propria ao ser escrito, e tendo como cumplice o clima do rio de janeiro  aconteceu que naturalmente comecei a fotografar perssonagens nus, sendo que o primeiro grafiti ustilizando o nu foi de um casal de amigos europeus que iria se casar em uma semana e aceitou posar nu de costas para meus grafitis. Sempre com a promessa de anonimato.  Comecei a serie erotica no final de 2013 grafitando este casal nas paredes de ipanema para testar a receptividade do publico.  novamente o sucesso foi enorme e logo um jornalista conhecido, o fernando gabeira, fez questao de em um de seus programas mostrar o grafiti dizendo que em ipanema o nu eh possivel.
Assim tornou se natural que o livro começasse a se auto escrever com cada vez mais personagens nus e o nu se tornase ainda um pouco mais ousado e erotizado. Por enquanto ninguem sabe aonde isto vai dar.
— Andrea Brandani
More Andrea Brandani on RioChromatic:
Ipanema artist Andrea Brandani is going to Munich at the city's request to paint the town any color he feels like. Let's see what (or who) he's packing in his bag. (link)
I met Andrea Brandani on the sidewalk in Ipanema, carving Jesus out of a near extinct pine that had fallen in the lingerie capital of Latin America three hours north of Rio. (link)