Every once in a while you find a place that tourists and gringos who do not identify as tourists both love.
That place is the beloved Confeitaria Colombo, a stained glass rainbow of historic awesomeness, coffee and homemade pastries on a little alley in the heart of downtown Rio.
So awesome that Starbucks decided to move in. Three doors down. SERIOUSLY, STARBUCKS?
Confeitaria Colombo: founded in 1894. Locations downtown and in the Copacabana fort.
Starbucks: 14 locations in Rio (mostly in malls) and counting. This is the most egregious. Egregious (adj): Conspicuous, outstanding, outrageously bad.
Cost of a Confeitaria cappucino: R$7.60
Cost of a Starbucks cappucino: R$8.00
It's COFFEE WARS!
This is Confeitaria Colombo.
This is Starbucks. Starbucks has a security guard in a suit.
Confeitaria has waiters in suits. Also, a stained glass ceiling.
Starbucks ambiance: 10x better than any stateside Starbucks I have ever seen. Note the animal rug to the left. Not pictured: Air conditioning on blast.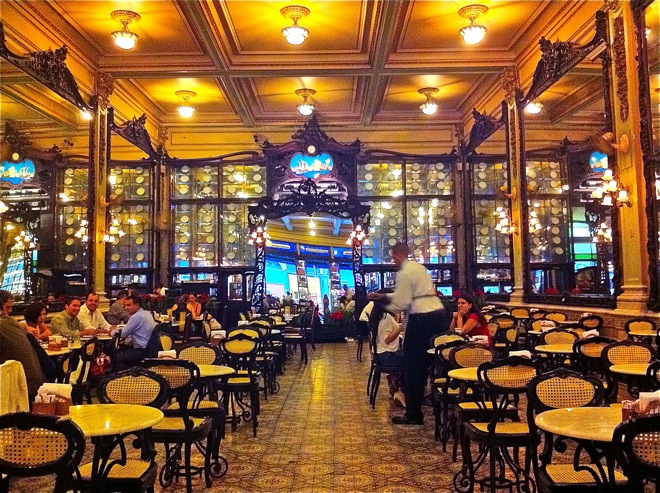 Confeitaria FTW! Mirrors. Mood lighting. Woven caning chairs.  AND NO WIFI THANK GOD
Confeitaria has a bunch of old china and artifacts on display, and delicious tins of cookies for sale.
And history. According to Confeitaria lore, the co-founders – Portuguese immigrants Joaquim Borges de Meireles e Manuel José Lebrão – created the phrase, "The customer is always right" (O cliente tem sempre razão).
Meanwhile, Starbucks sells recyclable fake plastic iced coffee cups.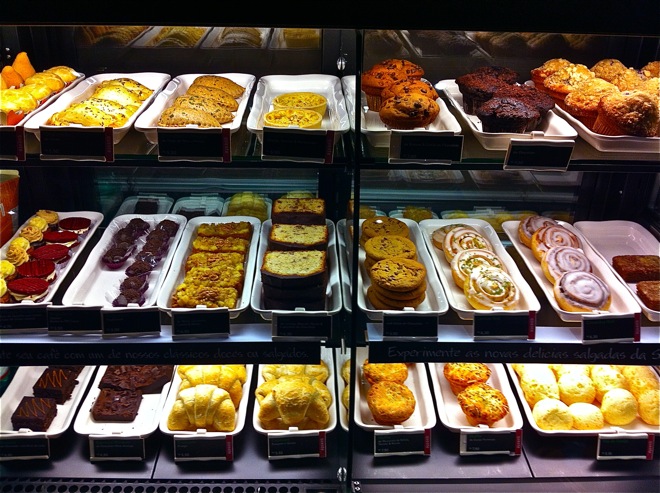 And a superior goodie spread to any Starbucks I have ever seen, even if they still look factory issue…  check the pão de queijo on the lower right.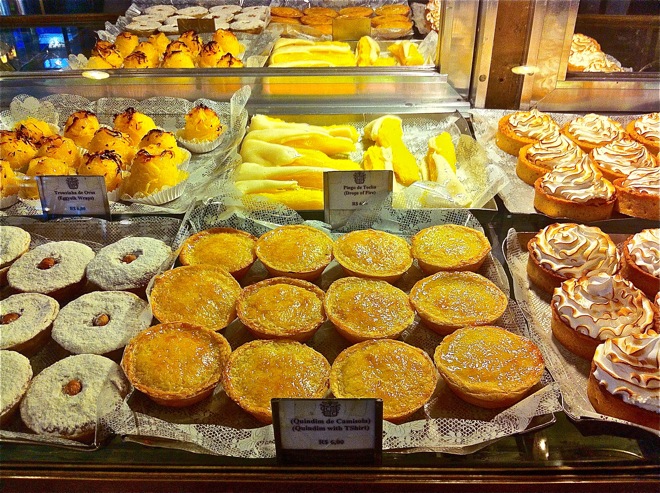 Confeitaria has homemade pastries.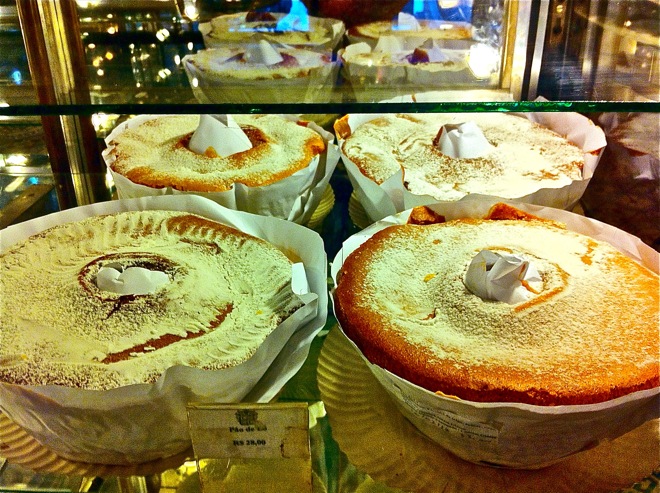 And cakes!
And salty pastries!! To the left: deep fried prawns. Center: smoked beef tongue croquettes.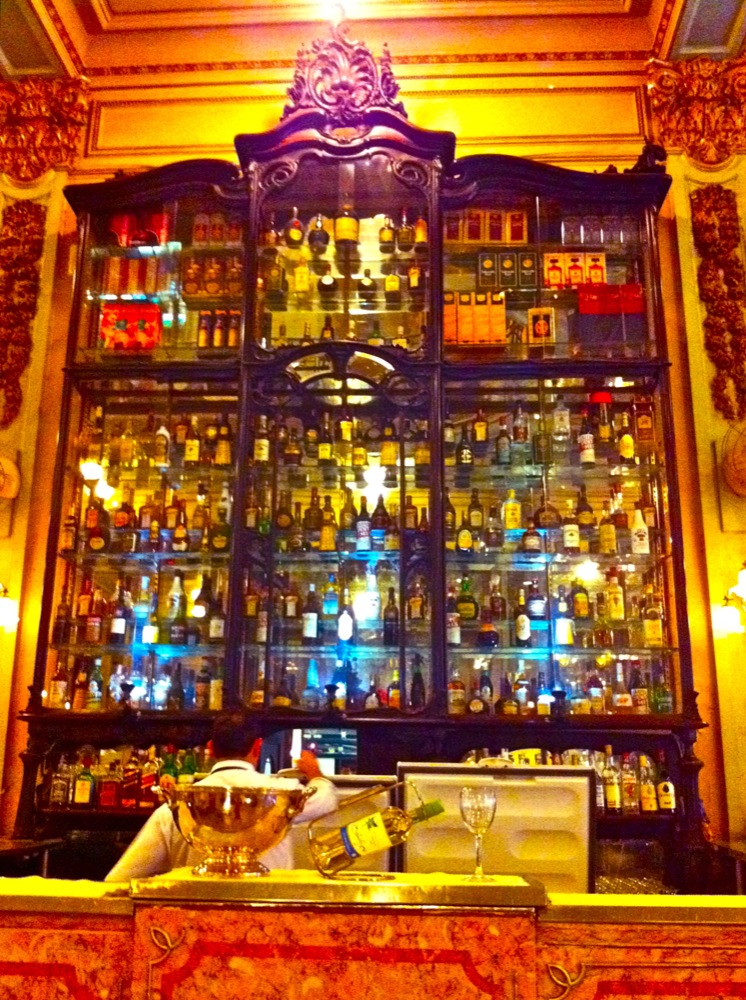 And a bar!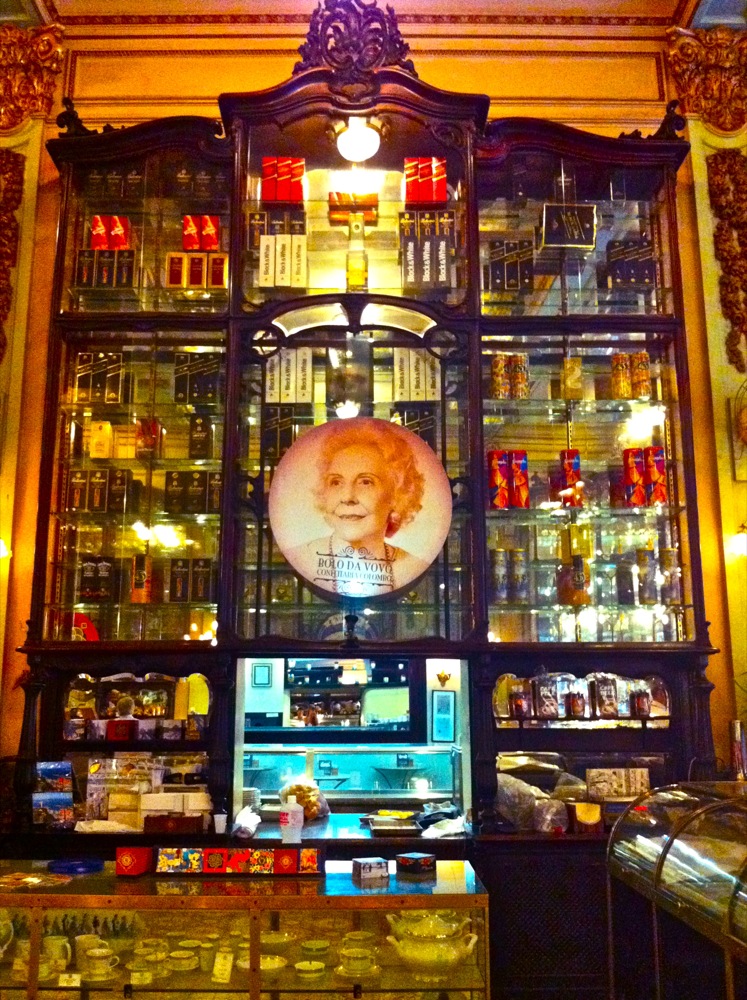 And grandma watching over us. I love you Confeitaria.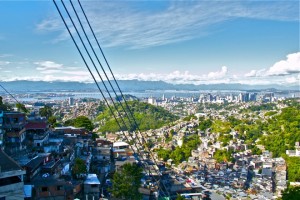 "It's a pleasure to be in Prazeres" – damn straight. Head up the mountain towards Christ the Redeemer, past Santa Teresa, take a right when you see this guy and you are in a place called Prazeres. Prazeres means "pleasures" in Portuguese. Read on.
PARIS IN LIMBO: French hotelier François-Xavier Dussol invites me to capture the final days of abandon at the Hotel Paris before it breathes new life as downtown Rio's first 5-star hotel. The wreckage is beautiful. We enter an unmarked door next to a mattress store bathed in limelight. Read on.
It rained all night but I woke up bright. Let's go to Piscinão. Read on.