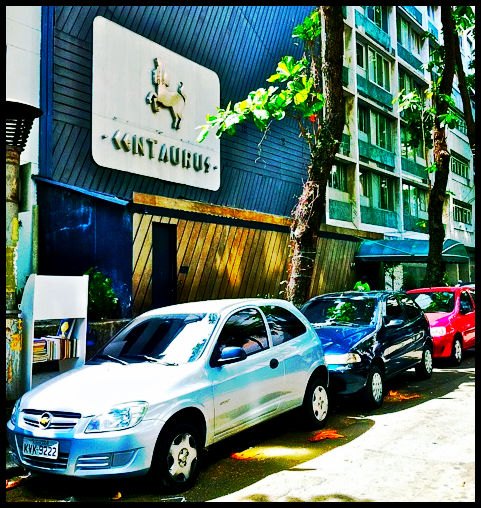 Justin Bieber visited a brothel this weekend in Rio de Janeiro, and if anyone out there has doubts as to whether the place he went to was actually a brothel, I can confirm it for you. Justin Bieber went to a brothel.
But not just any brothel. Centaurus, two blocks from the sand in Ipanema Beach (and three blocks from the gay zone in Ipanema) is what is known in Rio as a spa brothel, or terma, where in addition to a cushy robe, cocktails, club beats and prostitutes, you can also get a massage and a steam room.
No saying what Bieber did inside – I am assuming he paid for sex, but maybe he just wanted to hang out – can you imagine having Justin Bieber offering you money to have sex with him – this is how his visit to Centaurus went down.
Unless they gave him the VIP treatment, Bieber had to pay a cover charge to go into Centaurus – whether he fucked anyone or not – and all that money went to the house. Once inside, he was directed to the changing room, handed a nice robe, and invited upstairs to the club/sauna where all the working ladies are. Upstairs, he could opt for a massage, or opt for sex  – the going rate is somewhere between $200 for a half hour and $300 for 45 minutes. Threesomes are extra.
These rates make Centaurus one of the most expensive sex venues in Rio.  So much so that locals would call it overpriced – the main clientele is foreigners and business executives. But that hasn't kept Centaurus from making the list of top ten sex destinations for  tourists every year for at least the last ten years.
I'm not making this up – this is Rio's sex map, according to Rio's reigning sex anthropologists, Thaddeus Blanchette and Ana Paula da Silva, who have authored over 20 academic papers on intersections of sex work and Rio de Janeiro.
As I wrote for The Atlantic Cities last year,  Blanchette and da Silva "also maintain a database of over 50,000 reports of where people pay for sex in Rio, scraping a decade's worth of self-identified patrons from four major sex tourism websites, including pricing data and reviews of service. Blanchette and da Silva have verified 279 different addresses comprising a sprawling map of sex in Rio. But to really get a sense of the industry's scale, consider that one point on their map can stand for multiple venues, such as the red light district, which constitutes a cluster of close to 80 houses and over a thousand prostitutes."
Of all those choices on such a big map, including, on the higher end of the price range, any any number of discreet, private escort services, and termas, brothels, and sex motels that have a private entrance where cars can enter and exit with discretion, Justin Bieber decided to go to the most high-profile luxury brothel in all of Rio.
That all the tourists go to.
In the middle of Ipanema.
With only curbside arrival.
And paparazzi.
And the Centaurus marquee on display in the paparazzi photos.
Wrapped in a sheet, Halloween ghost-style.
Where, instead of embracing the fact that he was going to a brothel, Charlie Sheen-style, Justin Bieber decided to have his manservants carry him out to his getaway car, with two ladies from the brothel.
Wrapped in a sheet.
Since I am about a decade too old to actually give a fuck what Justin Bieber does with his musical talent, haircuts or sex life, although I do find it amusing that he chose to be so obvious – and yet so concealed – about his visit to a Brazilian whore house – oh God , the internal conflict –  I want to use this occasion as a departure point to talk more broadly about Rio's sex industry, and the onslaught of media reports you're about to read erroneously informing you that Rio is about to become Sex Slave Central when they host the World Cup next year.
Prostitution, as I wrote for The Atlantic Cities last year, is not illegal in Brazil. But any third party who profits off the transaction – whether it's the owner of Centaurus, or a security guard a freelance prostitute hires to keep herself safe, is technically breaking the law.
And anytime the tourists come to town, Rio officials exercise the ambiguity of that law to shut down sex establishments, in the name of image improvement. As they have for almost a hundred years. From my Atlantic Cities article:
The city has a history of warring with its prostitutes when tourists come to town that stretches over 100 years, as [Thaddeus] Blanchette and Argentine professor Cristiana Schettini detail in an upcoming academic paper.

When King Albert of Belgium came to town in 1920, police rounded up the city's lower-class prostitutes, arrested them and moved them out of sight to the outskirts of the city, inadvertently forming Rio's first red light district.

In 1968, police literally boarded up the red light district, then in its second location, to hide it from the view of Queen Elizabeth II's procession through the city.
If last year's Rio+20 United Nations conference – during which the city shut down Centaurus and another dozen of the most popular sex venues foreigners frequent – was any preview of what to expect for next year's World Cup, we can expect a lot of exercise of ambiguity.
Rio is currently undergoing the biggest prostitution crackdown in a generation,  while simultaneously promoting Rio's gay sex scene, in an ironic twist of heteronormativity that you can read more about here on RioChromatic.
So how can Rio crack down on an activity that is not actually illegal?
I asked Gabriela Leite, Brazil's #1 Whore and singular force who organized Brazil's prostitutes union and fought for prostitutes rights legislation up till her death last month, to break it down for me.
My question: Prostitution is not illegal in Brazil. So what's illegal?
Maintaining a house of prostitution is illegal. In the penal code, sexual exploration is criminal. If I have a house of prostitution with girls working there, I'm breaking the law. As a pimp. It's a bit of trickery. Because how is it legal for me to be a prostitute but not legal for me to have a place to work?
So the industry can't organize itself.
We have a legislative project we are trying to push that would remove these people from consideration as criminals, and would allow them to legally and officially operate a business of prostitution.
So I could sell sex from my house, and that would be legal.
As long as it's just you.
But if I get a roommate…
That's illegal.
What if I have an escort agency, instead of a physical house of prostitution?
That's illegal. Nobody can legally make money off the sex transaction, except for you.
And you think that needs to change?
Of course. Of course. Because the way things work today, if you have something that's prohibited, it creates a mafia around the business. The way the industry works today, there are mafias. The houses of prostitution exist. There are houses, brothels, bordellos, they exist. But how do they exist? They pay the police. And that's where the marginalization starts. The prostitute starts to live in the margins of legality.

And of course it's better to work inside a house of prostitution, with security, than to work on the street and get into some random stranger's car. Maybe he's a rapist, maybe he's going to try to kill you. It's different inside a house of prostitution.

Now, prostitutes need to have more rights, and more say in these questions. So that also they're not excessively exploited – because any owner of a house of prostitution is an exploiter – but so that they aren't excessively exploited by their bosses, like prostitutes are today. That their bosses assume their responsibilities to the prostitutes.
Excessively exploited, like, say, the ladies who choose to work at Centaurus.
Centaurus, despite being one of the most popular sex venues for foreigners – and one of the most overpriced venues in Rio – has some pretty crappy working conditions for the city's (not illegal) prostitutes.
According to women I have spoken with who have worked or currently work at Centaurus, working at Centaurus means committing  to obligatory five- or six-day work weeks, twelve hours a day. If you needs to skip a day because you're sick, or on your period, or you don't feel like fucking strangers in a sauna, you have to pay a fee of  $250-400 per day you miss. Curiously, if the masseuse needs a sick day – I asked one of them – he does not need to pay a fine.
The women I have spoken with who have worked or currently work at Centaurus have given two explanations for such an exorbitant fee. Either it's to guarantee the house is full of ladies – similar to a stripper's fee in the US if she is late to her shift – or to discourage women from going around Centaurus and taking a client directly on the one or two days she has off.
To top it off, the ladies that Bieber took home keep only about half the money the client pays for the experience. That means their "exploitation rate" – the amount they pay out to the house – is about 50%.
These are not working conditions I want for myself, were I a prostitute working in Rio, but the venue and the money are enough to attract enough pretty women to keep the house full for the clients (and celebrity clients like Bieber – and Vin Diesel!).
Why does this matter?
Because in a few months, you're going to start hearing all sorts of reports in the media that the World Cup is going to turn Rio de Janeiro into Sex Slave Central. These reports will claim that World Cup is going to be a big payday for sex traffickers, who will traffic anywhere between 10,000 and 40,000 sex slaves to satisfy the demand of millions of sex-crazed soccer fans streaming into Brazil for the games.
The reason I know you are going to read these reports in the media is that the media has reported approximately the same numbers for the past two World Cups, two Olympics, and three Super Bowls. If you'd like, you can read the full 100-page report published by the incredibly respectable and methodical organization, Global Alliance Against Traffic in Women (GAATW).
The report, called What's the Cost of a Rumor, explains in unprecedented detail, that there is actually no correlation whatsoever between mega-sports events and sex trafficking. There is, however, a correlation between mega-sports events and fictitious reporting about sex trafficking in the media. But no actual lift in sex trafficking at any of the past two World Cups, two Olympics, and three Super Bowls.
As the GAATW report details, instead of a lift in sex trafficking during a mega-sports event of World Cup proportions, what we can actually expect is that host city prostitutes will see a decrease in business, a decrease in access to medical care, and an increase in police abuse and violence.
All in the name of fighting an epic storm of mega-sports sex trafficking that never actually materializes.
First of all, because prostitution is not illegal in Brazil, and major host cities like Rio, Sao Paulo and Belo Horizonte have plenty of (legal) prostitutes, we will  need to ask why there will be a need to force-import additional sex trafficking victims for this horrific event.
Second, Brazil is expecting to receive some 3 million domestic tourists – Brazilians traveling around the country for the games – and only about 600,000 foreign tourists. In all of Brazil, for all of World Cup. That means over 80% of the tourists will be Brazilians, who can already pay for sex legally. So let's assume they won't be paying for sex with trafficking victims.
That leaves 10,000 to 40,000 expected sex slaves for 600,000 foreign men, women, and children at World Cup 2014, or about 1 sex trafficking victim for every 15 foreign soccer fans.
If this whole scenario seems kind of wacky to you, it is.
And that is because the anti-sex trafficking movement, including a very convincing group of old-school feminists and evangelical Christians who even got Facebook COO Sheryl Sandberg on the bandwagon, believes that all prostitutes are actually sex slaves.
So their strategy to get rid of sex trafficking is – this is genius – is to abolish prostitution from the face of the planet.
They believe that no woman would actually choose to do that kind of work. If she isn't physically in shackles, she must be psychologically enslaved, or if she isn't psychologically enslaved, she is economically enslaved.
And in any case, she needs to be saved – even from herself. Even if it means raiding her place of work and arresting her, as was the case at Centaurus last year.
So the anti-sex trafficking movement, instead of helping the ladies they purport to care about, wants to put them out of business.
Instead of promoting policies that would improve working conditions for prostitutes who, as Gabriela Leite explained, are forced into the margins of illegality, the anti-sex trafficking movement is actually pushing fictitious media campaigns and contributing towards policies that make life worse for prostitutes.
Instead of talking pragmatically about the fact that sex work (in the form of illegal prostitution or legal porn or legal digital prostitution, AKA webcam work) happens all across the planet (and internet), so how we can make life safer for the folks who do this work, the anti-sex trafficking movement would have you believe that all women who sell sex are slaves – and all men who pay for it are modern-day sex slave masters.
Who sometimes dress as ghosts.
Including you, Justin Bieber! <3
READ ON:  In a New York Times story that draws heavily on this post and my  Atlantic Cities story from last year, at times paraphrasing my work, and using many of the same citations and sources, Simon Romero and Taylor Barnes continue the spotlight on Centaurus in Before Global Games, Rio is Fighting to Dim Red Light. (link)
See Bieber in bed with Brazilians in the Rio tabloids:
Read more about Rio's sex industry on RioChromatic: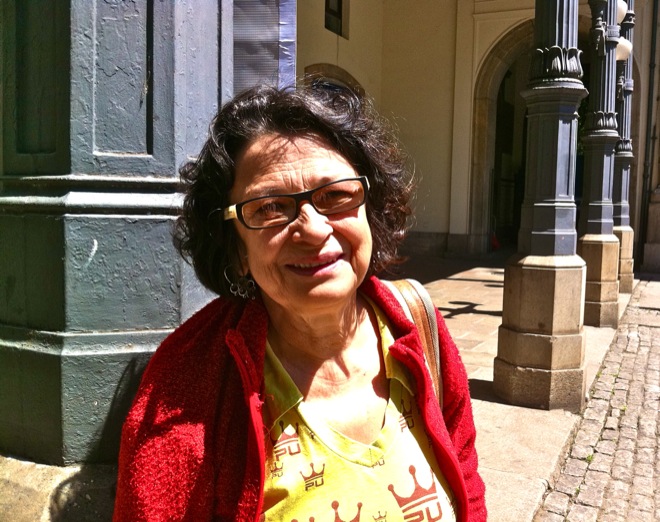 Brazil's #1 Puta:  "Every decision I've ever made, including the decision to be a prostitute, is linked to a strong desire to take action and be free." (link)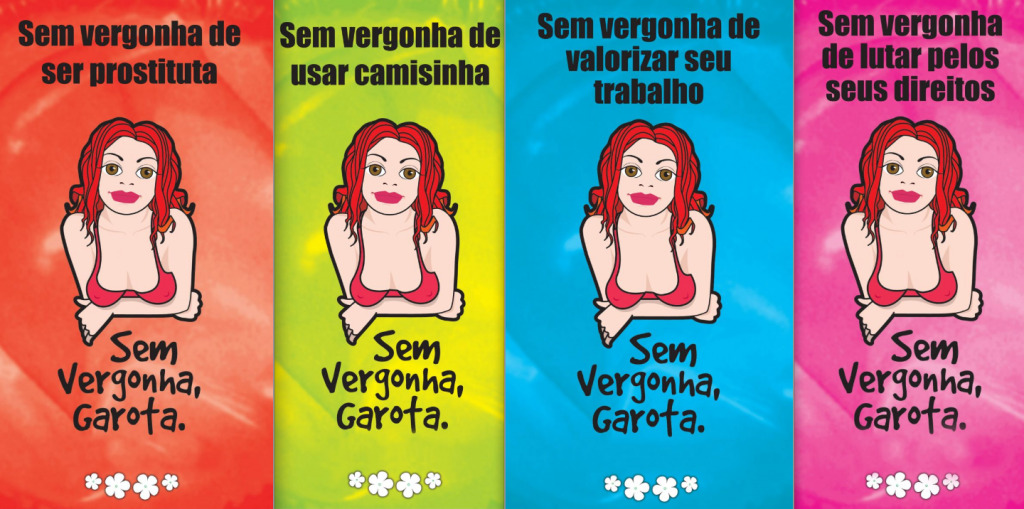 Unhappy Prostitutes:  Documentarian Laura Murray explains how the Brazilian Minister of Health celebrated International Prostitute's Day in June – by censoring an HIV prevention campaign. (link)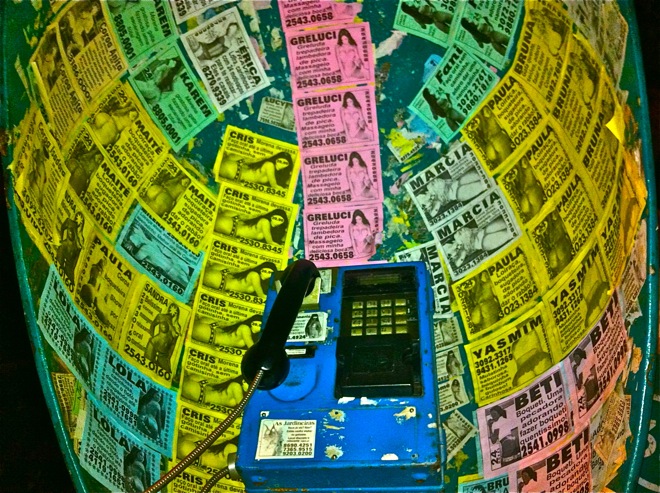 Pay Phone Sex:   "Horrific," he says. "How is a child supposed to use this phone?" (link)