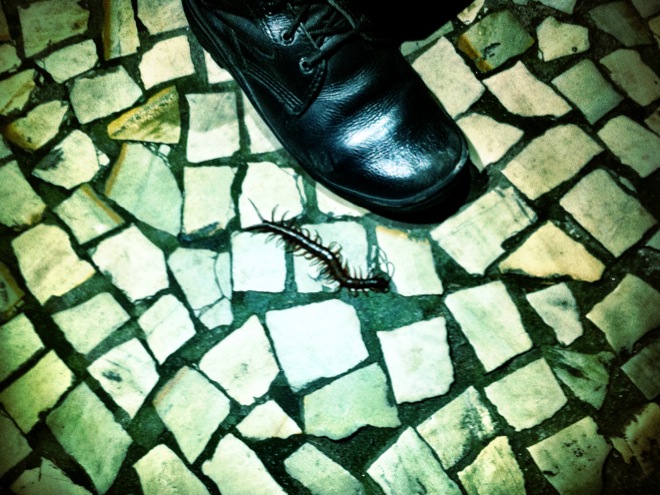 This is a lacraia, and this bug will fuck you up.
I saw four military police with machine guns stomping it to death on the sidewalk in Ipanema. They paused for a photo. Surreal.
From a study of lacraia bite victims in Sao Paulo in the 1990's: "The most frequent clinical manifestations were erythema, edema, discreet local hemorrhage, burns, cephalalgia and intense pain."
Lacraia is also the name of half of the epic funk duo, MC Serginho and Lacraia.
MC Serginho and Lacraia launched their two biggest hits in 2002, when I was an exchange student in Rio – Eguinha Pocotó and Vai Lacraia.
And in 2003, they performed both of them live on this daytime TV show called Domingo Legal (Cool Sundays).
This is Eguinha Pocotó, and this is everything I love about Rio funk – it makes you want to dance, it lets go and doesn't give a fuck, it's multicolor and unconstrained and pixelated. Note also that close-ups of amazing booties are standard fare for daytime TV in Brazil.
This is Vai Lacraia (Go Lacraia), and this clip pits Lacraia – in the purple jumpsuit – in a dance-off with a couple of oiled up dudes:
A lot of people (particularly in Rio, ironically) hate on Rio funk music because of the explicit lyrics, and would have you believe that all Rio funk music is hard core, pornographic, or otherwise degrading to women.
That's a dramatic over-simplification of a sprawling genre whose 2013 descendants include tween twerk crews, gay twerk crews, ostentatious funk (funk ostentação) of the "bitches and money" variety,  a decidedly pro-homo passinho movement, and  a whole bunch of lady funk singers speaking for themselves.
But back in 2003, Lacraia bucked generalizations of Rio funk as an exclusively hetero-normative playground, because Lacraia was gay.
And loved.
When Lacraia died in 2011 of an unnamed chronic illness – the guess is AIDS – his sister said, "He was an example for a lot of people. He went all over the place, and people liked him a lot. A lot of people changed their opinion about gay people because of him."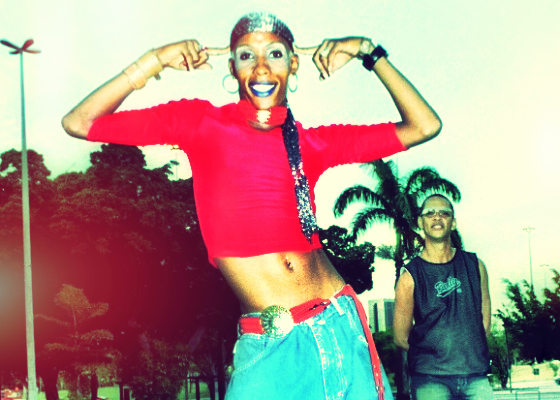 In one of those nights that only happens in Rio, I met up with MC Serginho and he took me to a funk party. He said he misses Lacraia to this day.
Serginho just launched a song in his memory called The Ghost of Lacraia (A Fantasma da Lacraia):
Por favor nao se asusta  /  Please don't be afraid

So nao corre nem desmaia  /  Don't run and don't pass out

Pra voce que nao acredita  /  For  you who don't believe

Olha a fantasma da Lacraia  /  Behold the ghost of Lacraia!
Rest in peace Lacraia!