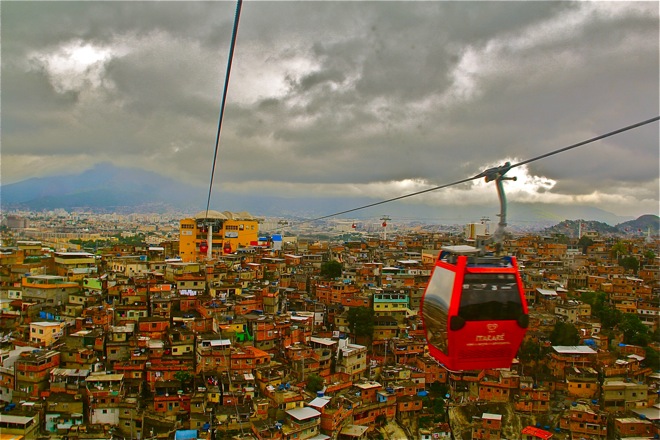 "Pacified, the German Complex Will Now Have Sightseeing Tours."
Named in reference to a Polish immigrant who settled in the area almost a hundred years ago and was nicknamed "the German" by locals, Rio's Complexo de Alemão – or German Complex  – made local and international headlines in 2012 for two seemingly unrelated reasons: a high-profile, ongoing pacification operation, and the inauguration of a state-of-the-art air gondola.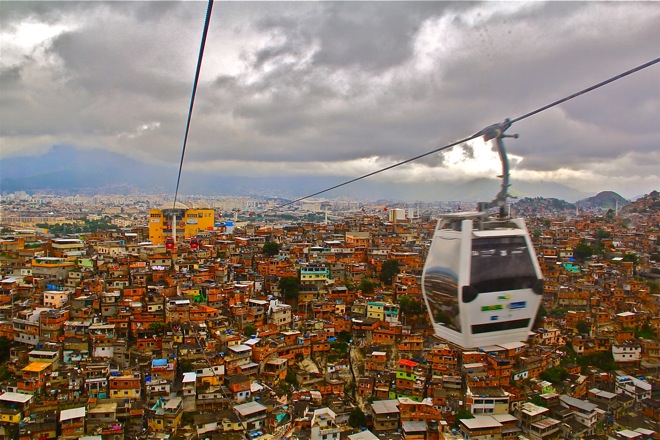 A headline in O Globo, a prominent Brazilian newspaper based in Rio, elegantly summarized the contradiction: "Pacified, the German Complex Will Now Have Sightseeing Tours."
Complexo de Alemão, in the city's North Zone, is Rio's largest favela. It underwent pacification in 2010 in a multi-phase operation that took two years and involved thousands of elite police forces and federal troops.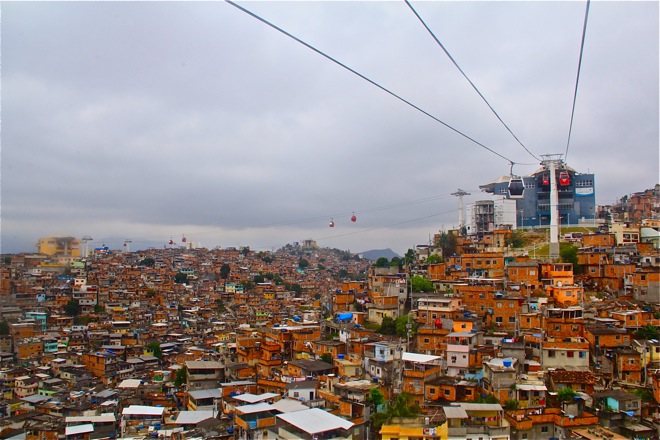 "Before pacification we lived in uncertainty," said David Amen, a co-founder of civil society organization Raizes em Movimento (Roots in Movement). The organization is based in the Ramos neighborhood of Alemão and organizes cultural events like photography classes and workshops for small business entrepreneurs.
"We didn't know: Is this a shooting? Is this an invasion? Are the police coming in? I'd have no idea what was going to happen today."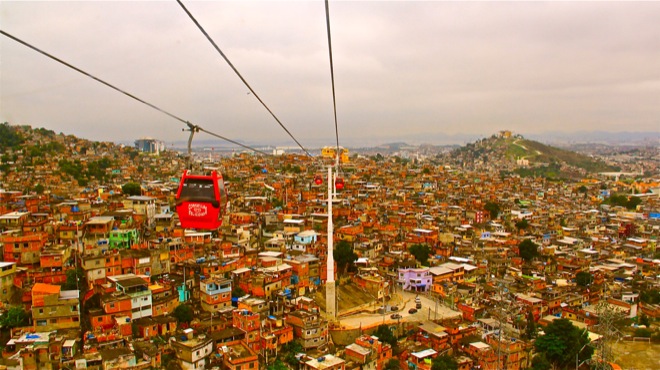 News reports would have you believe that the fate of Alemão hinges on the state's success (or failure) to keep the drug traffickers from retaking control.
According to David Amen, a resident of Alemão, "the trafficker is not the only villain in our story, and drug trafficking is not the only problem in our favelas."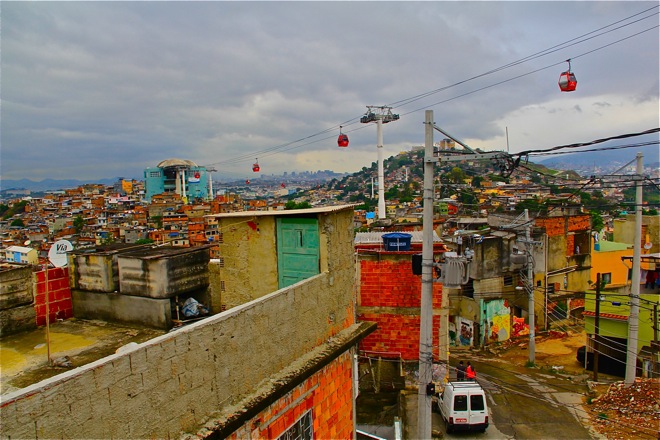 Alemão is statistically the poorest neighborhood in Rio: the average per capita income is in the lowest percentile in Rio; it has the largest percentage of residents (29.2%) living below the poverty line; and one-third of residents earn less than half the minimum wage (about US$150 p/month).
A third of Alemão's residents have no legal title to their homes, and another third can't reach their homes by car. Basic sanitation and trash collection are absent in large parts of the complex.
Primary health is also an issue: in 2009 a local Doctors Without Borders emergency clinic closed its doors, leaving Alemão's almost 200,000 residents without ready access to an emergency room.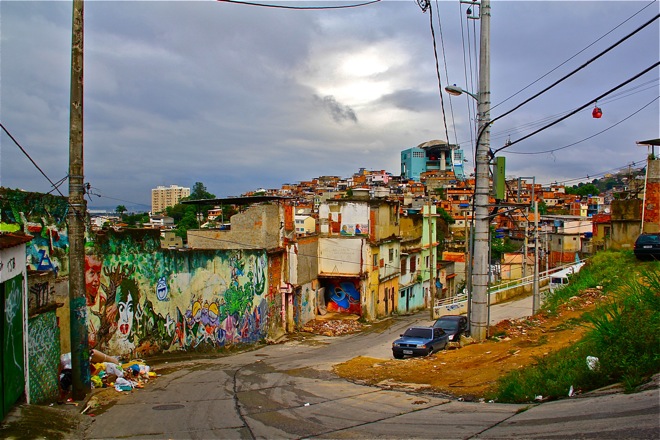 In the face of pressing community needs, the city recently dedicated over US$400 million to infrastructure upgrades and social assistance programs in Alemão. A large proportion of this federal money was however spent on an elevated cable car system, or air gondola.
"The number one priority in Alemão is sanitation," said Alan Brum, co-founder and director of local non-profit Raizes em Movimento, at a public hearing last April.
"Imagine a cable car. Just in terms of federal and state money, R$725 million [US$362 million] has already spent, and we still don't have basic sanitation for all of Alemão's residents."
Representatives from the federally funded Growth Acceleration Programme (PAC) promised to complete projects focused on basic sanitation, habitation improvements, street widening and traffic signals, but so far only the cable car has been built to completion.
Inaugurated in 2011, the Medellin-inspired cable car system stretches 2.9km across six stations in Alemão and is free to residents.
Despite capacity for 30,000 riders per day, many of the gondolas were empty on a recent Friday afternoon when I sat in my own dedicated car to photograph the system. A legal services center at one of the stations, inaugurated by President Dilma Rousseff in 2012, has yet to open for business.
Local residents told me the cable car (or teleférico) is "for tourists." David Amen, of Raizes em Movimento, referred to it as a "Trojan Horse."
"First of all, the PAC program starts off with the wrong name," said Amen. "It's not a project that encompasses Alemão, which is comprised of a minimum of 14 official communities, sub-communities included among them. The cable car reaches only five of them. There are communities in Alemão that aren't going to see a gram of cement: places with open sewage, places where there are mud shacks, families living without basic sanitation."
"We have trash collection once a day, but we don't have a specific point to put the trash – don't simply blame the residents for the trash, there's no other place to put it."
Alemão has no recycling program in place.
Amen wonders if the gondola's construction has left the community more divided.
"Nobody in Alemão was consulted on the project. It was planned and approved before the population had any idea what was going to happen."
"How are you going to spend that kind of money on social projects in Alemão without talking to the residents and letting them be heard? What kind of project of growth acceleration is this that doesn't provide growth?"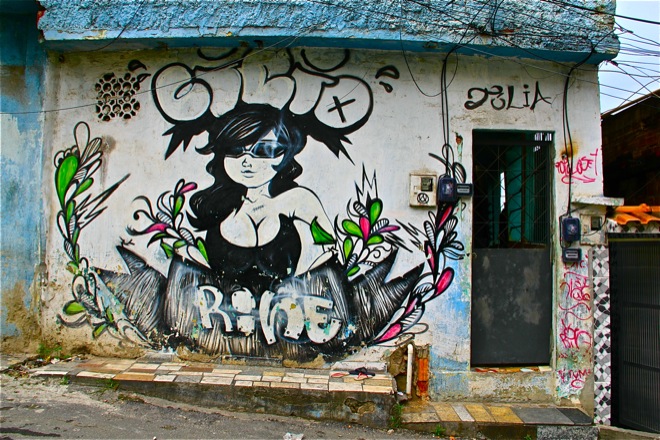 —
All photos by moi, @jruv. I excerpted text in this post from "Technocity: The Hardwiring of Rio,"  my feature photo-essay for CityScapes, a brilliant magazine "re-thinking urban things" from the African Centre of Cities,  edited by Tau Tavengwa, Sean O'Toole and Edgar Pieterse.
The story features ten of Rio's biggest infrastructure projects purported to connect the divided city, including the controversial Bus Rapid Transit line to the Olympic City, a 3D movie theater and a $500 million air gondola in Rio's biggest favela, and the all-seeing eye of the largest surveillance screen in Latin America.
Preview the piece here: http://www.cityscapesdigital.net/2013/05/30/bridging-the-divided-city/