Meet the tween queens behind Brazil's butt training meme.
I first heard about the Bonde Das Maravilhas (literally "Train of Wonders") last year from a lady giving me a bikini wax in Copacabana Beach. When she found out I like funk music, she told me I had to check out this group of girls on YouTube her daughter wouldn't stop talking about, called the Bonde Das Maravilhas.
This was January, 2012, and MC Boom's Treinamento do BumBum (literally "Butt Training") music video was starting to making the rounds on YouTube. But his view count paled in comparison to the butt-training meme it inspired. Search for "treinamento do bumbum" and you'll find thousands of videos of girls doing the butt training dance.
One video stands above the rest. Thaysa, Thalia, Rafaela and Karol of the Bonde Das Maravilhas have an extra couple of zeros behind their view count. Why have almost five million people watched it? Is it the apathetic-chill dance vibe? The surreal effect of pixelated video resolution on concrete? The charm of the Maravilhas?
I had to meet these girls. So I found the Maravilhas on Facebook, and since they're all still in high school, I got permission from their manager (and Rafaela's mom) to interview them. On a rainy day last January, I took a ferry across Guanabara Bay to meet them in their home town of Niteroi, a city best known for being across the bay from Rio.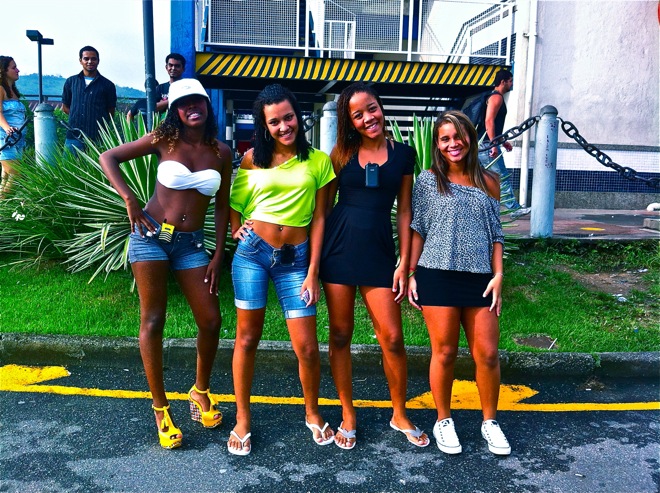 The Maravilhas in Niteroi, January 2012
Thaysa, Thalia, Rafaela and Karol were 13, 14, 15 and 16 when I interviewed them. A year later, they've seen half a dozen videos top the million view count on YouTube, they've started making music videos, they're still crushing it dancing at local funk parties, and they're all still underage.
If you feel uncomfortable watching girls this young shake it like that, that's precisely the point. Hugo Schwyzer calls out our anxiety about premature sexualization in Jezebel:
Rather than listen to young women themselves, too many adults fixate on one of the great worries of our era: that girls are the victims of premature sexualization. The anxiety about sexualization ends up becoming the only lens through which well-meaning adults see teen girls and their clothes. That's a huge mistake.
So let's look at the Maravilhas through a second lens too: as they see themselves.
Watch my interview with the Bonde Das Maravilhas, from their rise to internet fandom to what grandma thinks, mixed up with samples of their hottest YouTube videos. This is a RioChromatic original production.
Want to kill the next half hour watching Bonde das Maravilhas videos? Here's your playlist:
Quebra means "break it down." This is the Bonde's newest, Carnaval-themed music video featuring MC Nego, and it's their best production quality by a landslide.
This video also features MC Nego. According to the Bonde Das Maravilhas documentary, MC Nego met the girls at the first show they ever danced, started inviting them out and helped their rise to internet fandom.
The first BDM video I watched, at the recommendation of my waxing lady.
The original, and awesome, music video by MC Boom that spawned the butt training meme.
Literally, "Sit, sit, sit down on it." My personal favorite.
The first video in this post includes samples of the following YouTube videos:
Montagem – Bonde Das Maravilhas Eo Mundo Se Acabando [K1Absoluto] – thalia almeida
MC Boom – Treinamento do bum bum [ 1080p – HD ] – funkneurotico
MONTAGEM – TREINAMENTO DO BUMBUM ♪ (BONDE DAS MARAVILHA) FOODA – CarlosFelipe8B
Bonde Das Maravilhas Ensaiando –  Germano Costa
Mc Nego do Borel e Bonde das Maravilhas – Ao Vivo no Olimpo – 17/08/12 – MedleyAoVivo (Originally taken from a video called "4 videos de bonde maravilhas" that has since been removed from YouTube. This video is of the same show with MC Nego at Olimpo.)
Bonde Das Maravilhas – Senta Senta Vai Senta – TraKinasPem
Bonde das Maravilhas – Brincadeiras das Maravilhas (CLIPE OFICIAL) – DJ KLEBER'IGOR – Kleber igor
BONDE DAS MARAVILHAS E MC NEGO NA FESTA DE 4 ANOS DA BEAT 98.  – Julio Cesar
Bonde das Maravilhas – Documentário ( TOM PRODUÇÕES ) 2013 –  Tom Produções
Image montage in this post by Duda Knust, taken from of the BDM Facebook page.