Pacified, gentrified, superbly located Vidigal. The "UPP" pacification branding in Vidigal plaza means it's safe for tourists.
Drive a mile down the coast from swanky Leblon Beach, just past a strip of sex motels and the Sheraton Hotel, and you're standing at the entrance to Vidigal.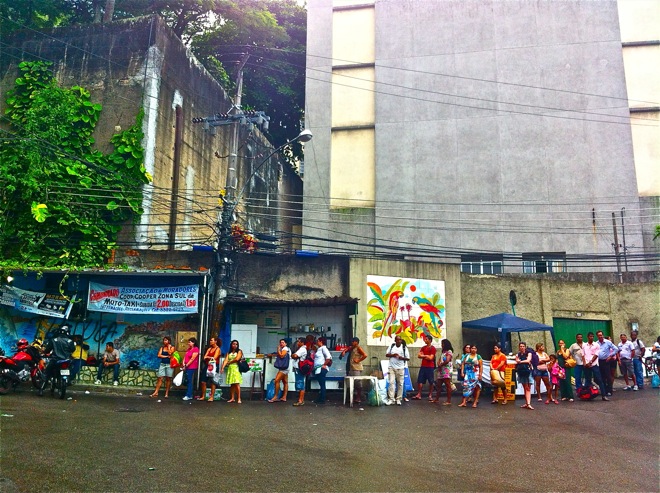 Locals line up to catch a ride up the hill on a moto-taxi.
Moto-taxis zoom through the plaza that used to host Vidigal's famous funk parties, till the pacification police laid some bureaucracy down with a new party permit policy.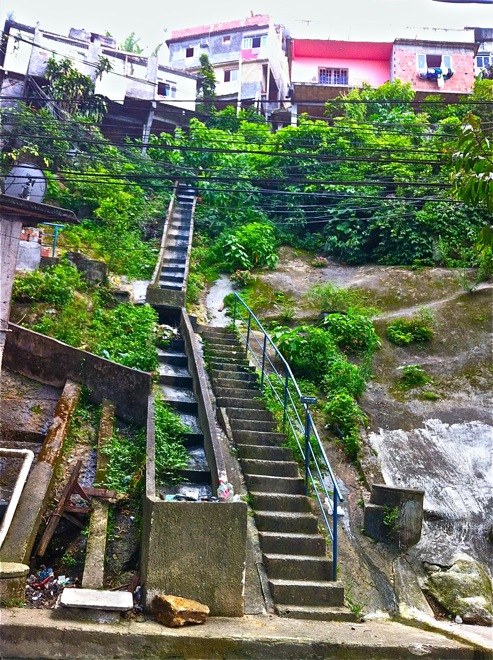 Some people opt for walking and some take the stairs.
Local açai for sale.
And local ladies in retail.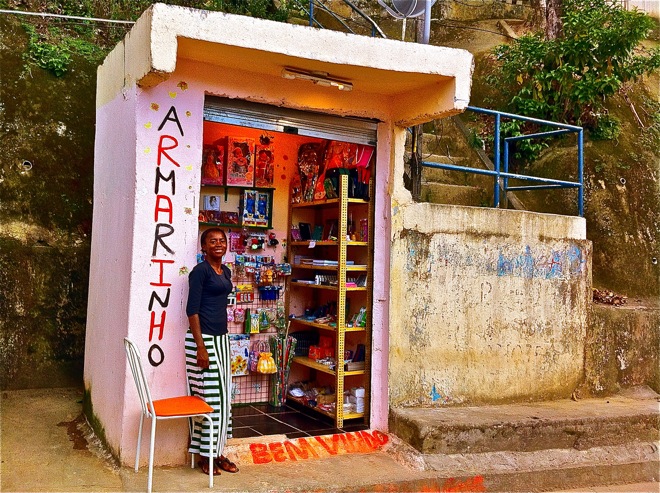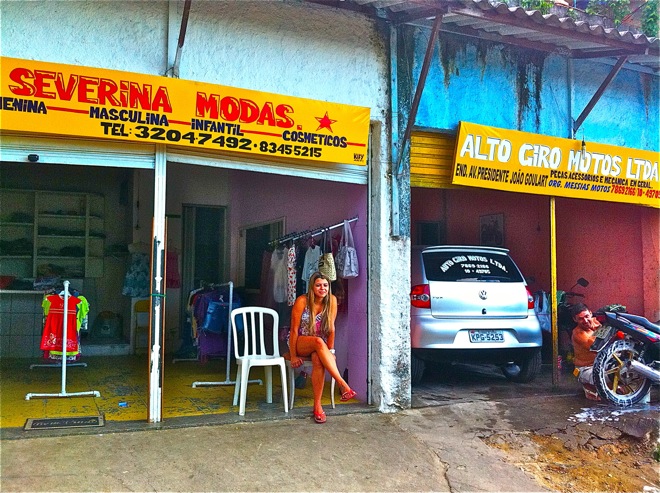 This is Ana Paula's shop. She's 19. Next to Ana Paula's shop is the auto shop.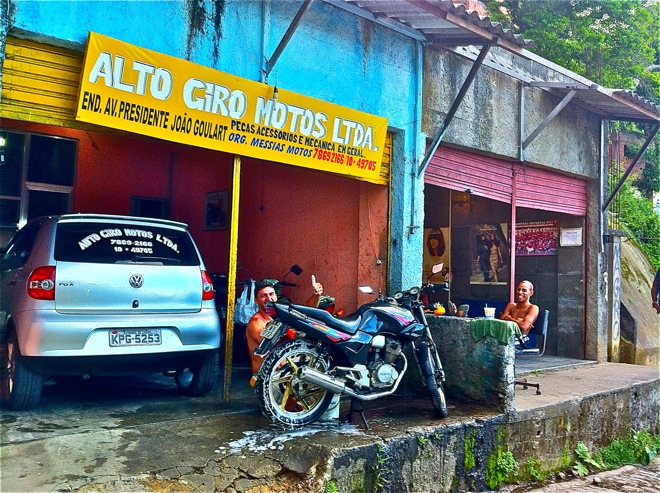 Next to the auto shop is the barber shop, where the guy on the right is dying his hair red.
Family portrait.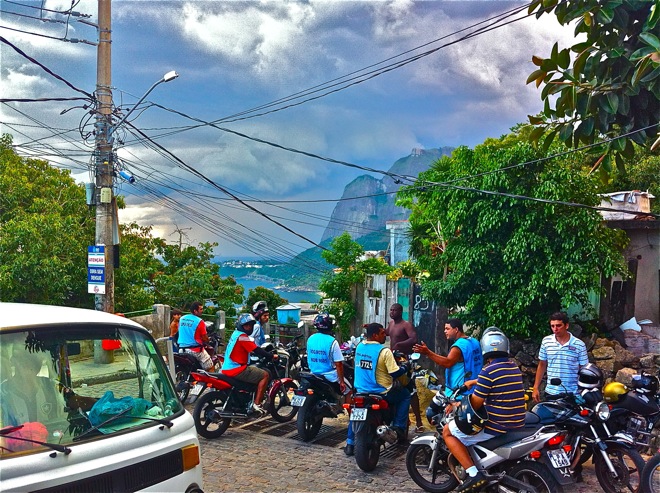 A moto-taxi meet-up near the top of Vidigal, known as Alto Vidigal.
Killer views in Alto Vidigal. This is a moment between sunshine and a rainstorm.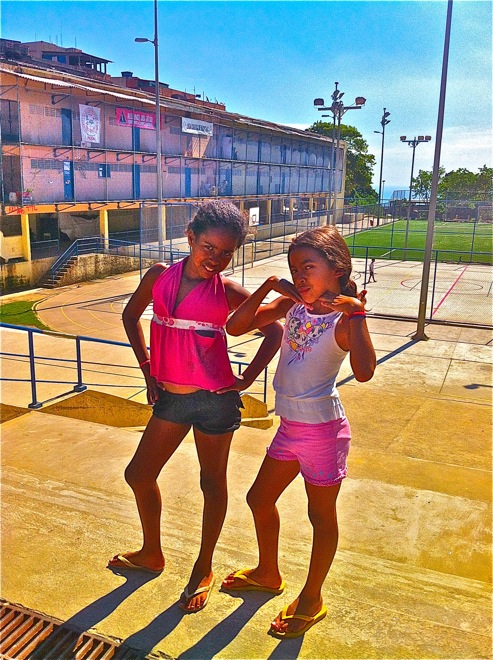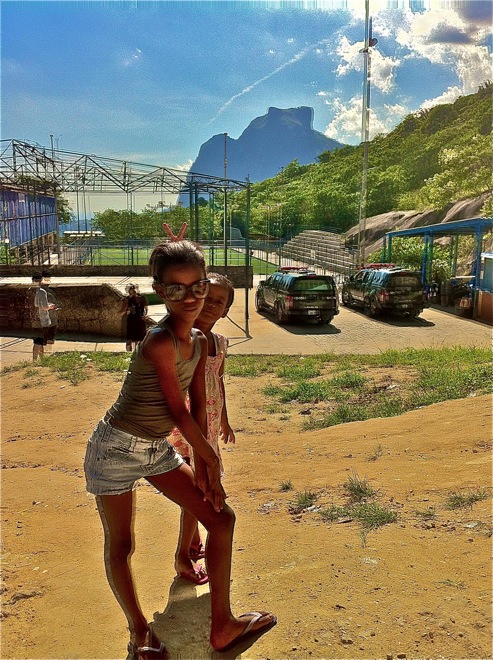 Local girls pause for a pose-off in the sports plaza in Alto Vidigal.  The pink building to the left houses a municipal daycare in one half. The other half hosts an NGO called GASCO. The girls on the right post up in front of police SUVs, where the Order Shock Batallion has a station overlooking the plaza.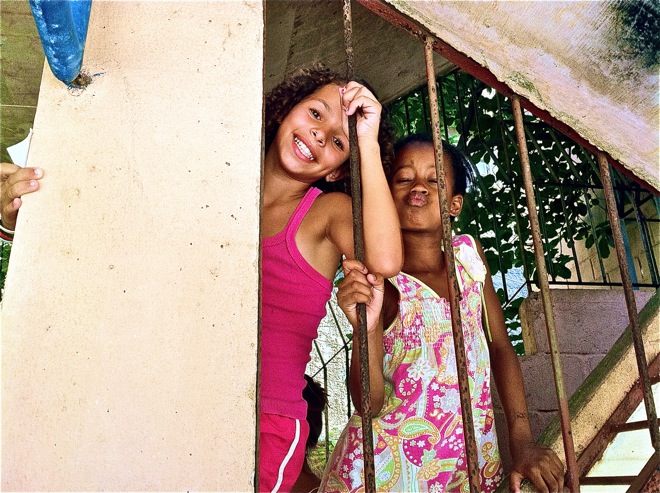 GASCO offers English, Spanish, Portuguese classes, dance and judo classes, sports programs and psychological counseling to about 200 local kids per day.
They've served 7,000 kids since they opened their doors in 2007.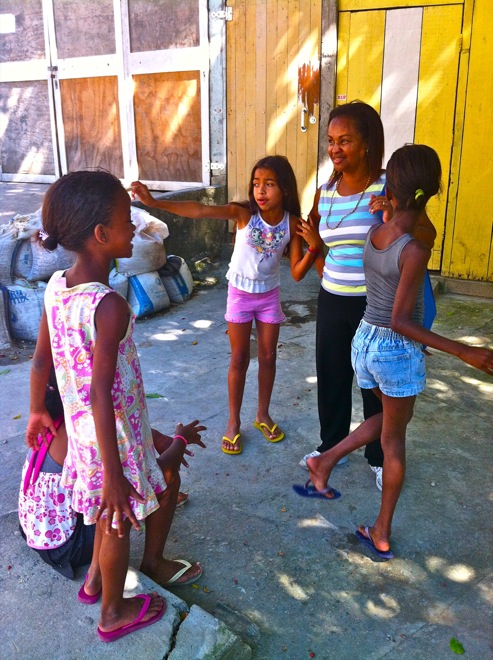 Local girls call Bernadete Tia, for Auntie. Bernadete used to work for an NGO at the bottom of Vidigal and noticing that the kids on the top had less access to resources. So she started GASCO. Bernadete also works as a counselor for the Rio's Conselho Titular, Child Protective Services.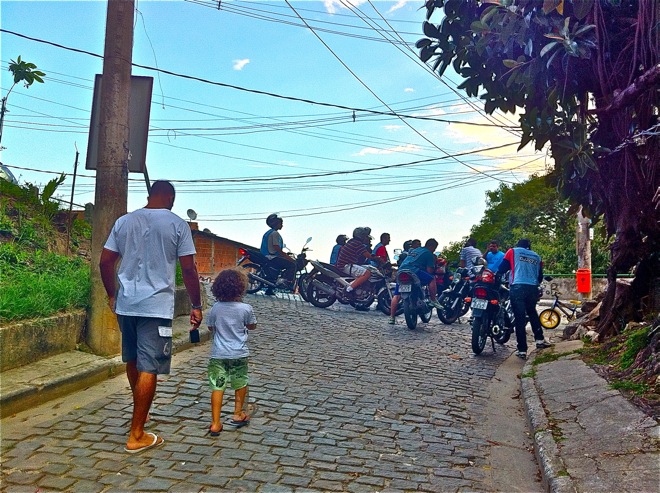 Most of GASCO's volunteer staff are foreigners, Bernadete says, because "we don't have that culture here." Marcio, a Vidigal resident walking on the left, is an exception. He teaches judo classes to ninety enrolled students.
Vidigal was pacified in November 2011. After pacification, the UPP Social program brings social services to the community. Bernadette thought her NGO would be a natural ally supporting incoming social programs. Instead she was served eviction papers.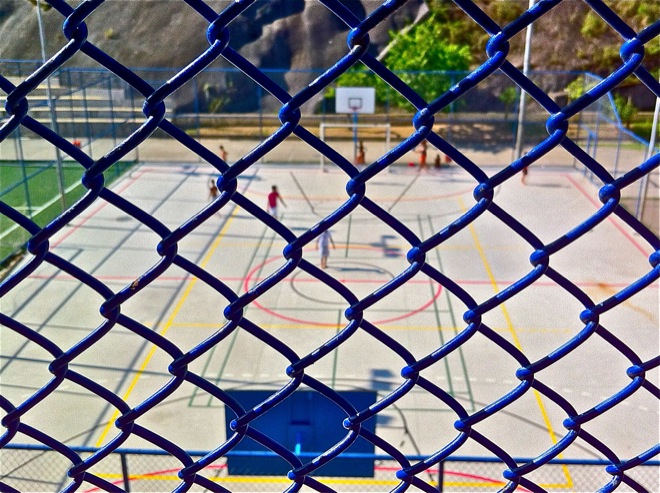 Classes are canceled for the summer while GASCO fights removal.
Local NGO CatComm runs a community news site called RioOnWatch.org that has been tracking GASCO's fight to resist eviction. Bernadete also counts on the support of four public defenders and a lieutenant coronel from the local Military Police. When trash trucks showed up to clear out her space last year, he held them at bay and asked them to return with official paperwork.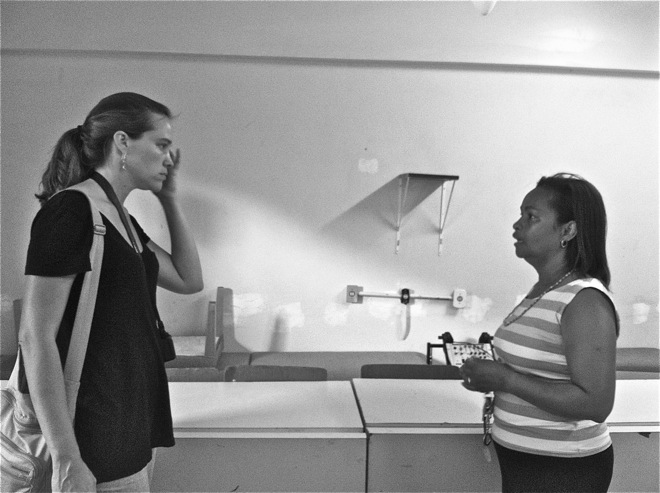 Bernadette catches up with Theresa Williamson, founder of CatComm, on the fight to stay open.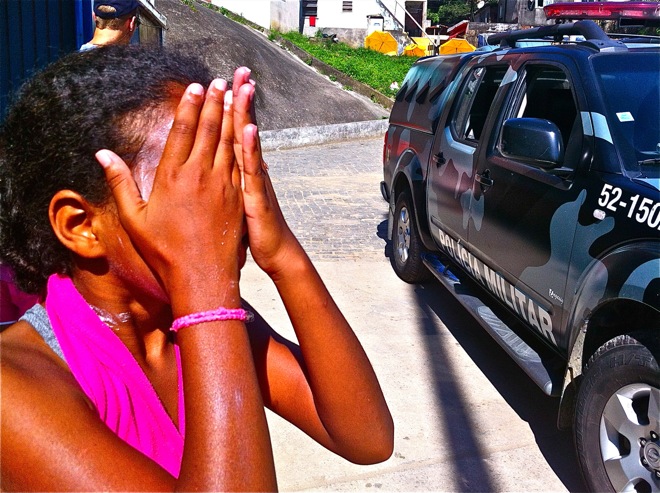 Sunblock and camouflage SUV's.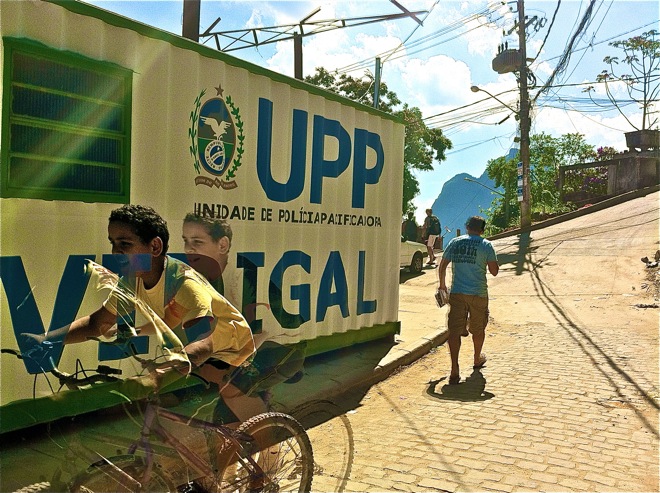 Vidigal residents have been fighting eviction battles since the 1960's.  When Pope John Paul II visited in 1980, he presented the community with his ring in solidarity. Local papers called Vidigal "the Pope's favela."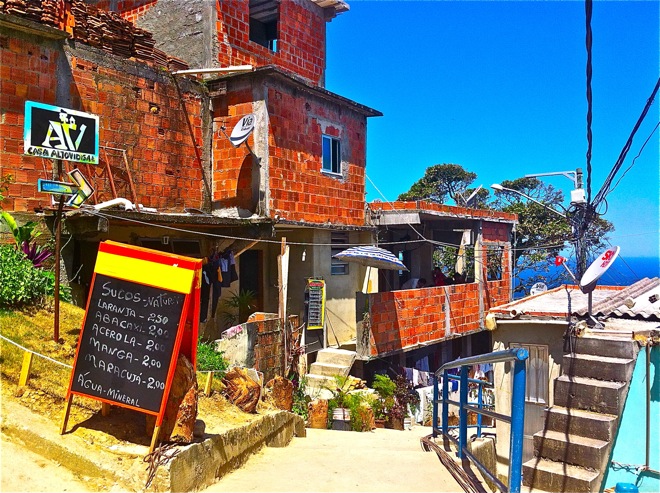 Since pacification, politicians, boutique hoteliers and sons of billionaires have also been trying to get in on the real estate action. A rainbow sign at the tip top of Vidigal points the way to Alto Vidigal, a hostel popular with hipsters and backpackers that opened in 2010.
The door to the hostel reads, "Vidigal is leisure."  You'll see why when you check out the view.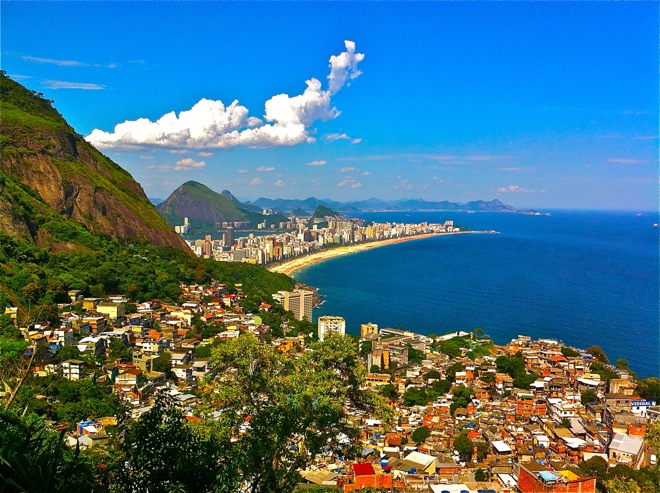 Read on: A resident's report on gentrifying Vidigal, via RioOnWatch. (link)
Original photography by Julie Ruvolo. Shot on a LUMIX LX3 in January, 2012.
More Vidigal: