Luxury brothel smackdown in Rio de Janeiro. The Olympic City takes aim at a pricey brothel popular with tourists in its latest effort to clean up Rio's image abroad.
In my first story for The Atlantic's new city-specific edition, AtlanticCities, I report on the Rio+20 raids, where an ultra-expensive sauna brothel called Centaurus, along with a dozen other sex establishments popular with tourists, were shut down on the eve of the Rio+20 conference.
Read Rio's Biggest Prostitution Crackdown in a Generation in Atlantic Cities here.
Rio has already shuttered 24 sex establishments in the rapidly gentrifying downtown and tourist-friendly South Zone neighborhoods. Another 33 venues have been threatened or harassed by the police. The Rio+20 raid included Centauros and another dozen of the most popular sex venues foreigners frequent, including several strip clubs that employ prostitutes.
Quite a lot of drama when you consider that prostitution is not actually a crime in Brazil. The Ministry of Labor has recognized prostitution as an official occupation since 2002.
But as Rio de Janeiro prepares for its turn on the global stage – as the host of the World Cup in 2014, then the 2016 Summer Olympics – the city is taking drastic action to keep its thriving sex industry out of the spotlight.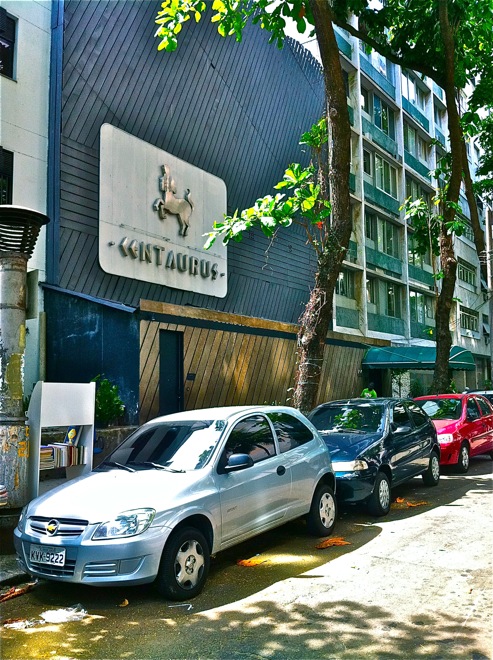 Centauros in Ipanema before the Rio+20 raid.
"Centauros has consistently been in the top 10 places visited by sex tourists in Rio de Janeiro for at least the last 10 years," says Rio anthropologist Thaddeus Blanchette. "It is the most expensive venue frequented by foreigners in any number and also one of the oldest termas (sauna brothels) in town."
Blanchette and anthropologist Ana Paula da Silva maintain a database of over 50,000 reports of where people pay for sex in Rio, scraping a decade's worth of self-identified patrons from four major sex tourism websites, including pricing data and reviews of service.
Blanchette and da Silva have verified 279 different addresses comprising a sprawling map of sex in Rio. But to really get a sense of the industry's scale, consider that one point on their map can stand for multiple venues, such as the red light district, which constitutes a cluster of close to 80 houses and over a thousand prostitutes.
Daytime in Rio's red light district
Visiting foreigners tend to frequent the same short list of sex establishments, making the dozen venues in the Rio+20 raids easy targets for what a local judge called a "hygenist" policy motivated by the World Cup. According to Blanchette and da Silva's database, 80 percent of Rio's foreign tourists report frequenting the same 20 venues, and 65 percent of them visit the same ten.
Help!, a beachfront disco in Copacabana that was the top destination for foreigners to rendezvous with prostitutes for a solid decade until Governor Sergio Cabral closed it down in 2010 to make room for the Museum of Imagery and Sound, still awaiting construction two years later.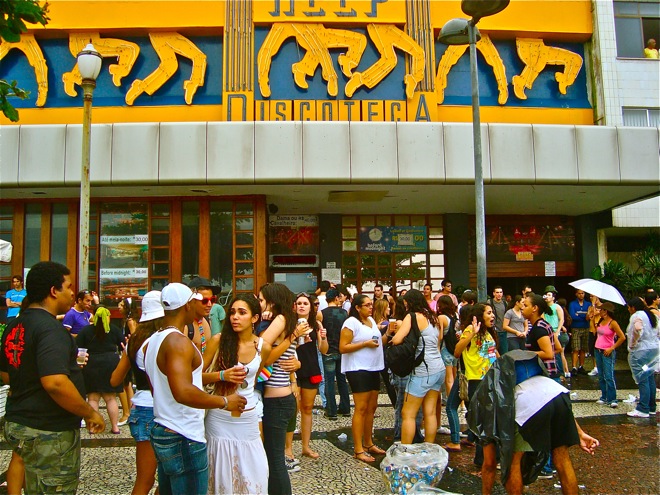 Help! in its heyday. Photo courtesy of Thaddeus Blanchette
The meet-up scene has moved to Balcony Bar a few blocks down. Balcony has also been the target of recent police raids.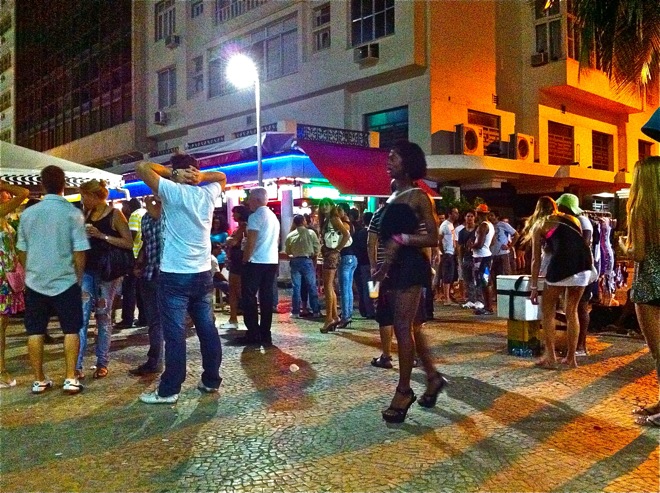 Balcony Bar, in beachfront Copacabana.
In the Cinelândia cultural district downtown, Rio's oldest and most active prostitutes rights group, Davida, was evicted to make way for a boutique hotel by a French hotelier. The building, appropriately, is a former brothel called Hotel Paris. Across the plaza, bright lights have helped clear out the prostitutes. Blanchette:
I first noticed them about six months after Rudy Giuliani was brought in as a security consultant for the games. Local police said they were emplaced because of a cultural center on that corner, but that makes no sense at all as the cultural center does not function at night. That corner is the only corner those sodium highlights have been emplaced on and it just happens to be the main concentration for street prostitution in the region. Could be coincidence. I very much doubt it.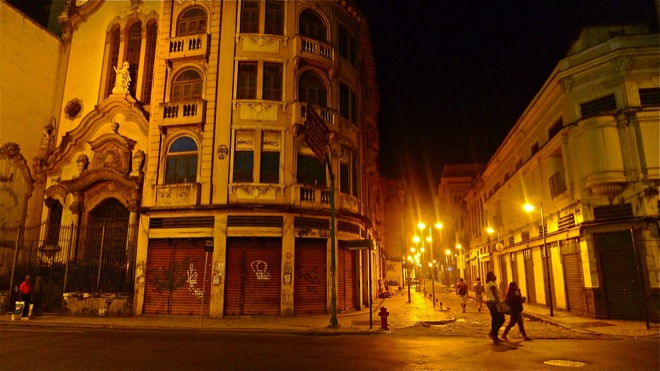 Giuliani lights?
Police are taking the cosmetic cleansing as far as the pay phones, threatening prostitutes who post fliers in them with 15 years in prison for "destruction of public property," according to Blanchette. And earlier this year, the Tourism Ministry asked over 2,000 websites to remove content promoting Brazil as a destination for sex tourism.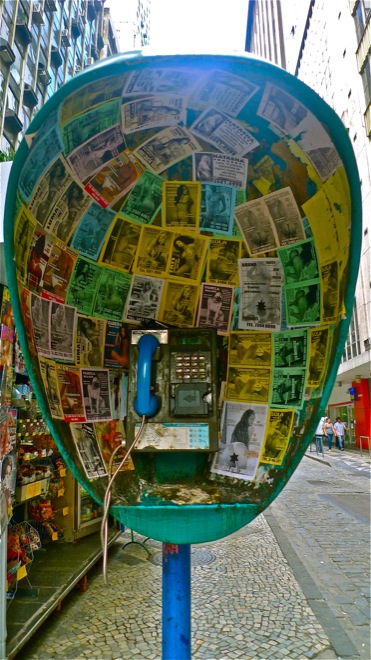 A sexed up pay phone downtown.
"There will be criticisms," Rio Mayor Eduardo Paes recently told The Economist, "but the city's image is being transformed." What remains to be seen is just how far Rio will go to exclude its prostitutes from the picture.
Read Rio's Biggest Prostitution Crackdown in a Generation in Atlantic Cities here.
More RioChromatic sex culture:
Meet the Rio tweens behind Brazil's butt training meme. I first heard about the Bonde Das Maravilhas (literally "Train of Wonders") last year from a lady giving me a bikini wax in Copacabana Beach. When she found out I like funk music, she told me I had to check out this group of girls on YouTube her daughter wouldn't stop talking about, called the Bonde Das Maravilhas. (link)
Erotika is a strip club in the Prado Junior district, one of dozens of inferninhos ("little hells") where you can meet  prostitutes in Copacabana. Linox is a band with a new album. They meet over whiskey and feathers… Read Live at Strip Erotika.
Original photography by Julie Ruvolo except where otherwise noted. Story © 2012 Julie Ruvolo, as first published on TheAtlanticCities.com.