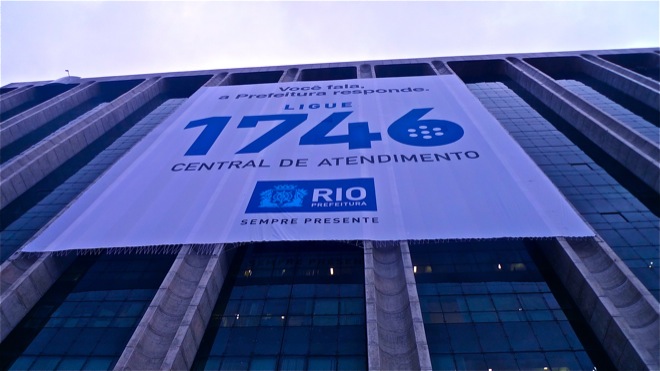 One ring to rule them all: Dial 1746 to reach over 300 city services in one place.
Some headlines on Brazil are more fit for a Vin Diesel worldview than they are fit to print, but we admire their enthusiasm:
Brazil teeming with crack users and sales.
Brazil Widens Human Flesh-Filled Empanada Probe.
For the real deal on Rio, read these stories from the rising class of foreign journalists in Rio.
Taylor Barnes (@tkbarnes) on social media in the country with the highest percentage of citizens on Twitter:
Rene Silva [@Rene_Silva_RJ],  a 17-year-old jokester who started a community paper and whose Twitter account became a closely watched insider source for outsiders watching the military invasion unfold. Now the highschooler is becoming a local sensation, with more than 30,000 Twitter followers, and is sending near constant messages about incidents from hearing shots behind his house to what he's riding at a water park.
Rene told me, "If we know how to take advantage of these new forms, blogs, YouTube, Twitter … we are going to be able to change Brazil, especially the favelas. Because the favelas use the Internet."
Silva talks with Barnes in Christian Science Monitor on producing counter-narratives:
As Brazil took the unprecedented step last year of sending in its armed forces to rout the drug dealers from this hilly sprawl of favelas, [Silva] used the social media outlets of the small newspaper he started, at age 11, to tell residents what was happening.
"It [the paper] says what the residents want to say and what they aren't able to say through the large media outlets, because I don't believe the large media has a channel that's really linked into the community," says Silva, whose newspaper's staff – ages 14 to 17 – lounge around with laptops and wireless USB sticks at a local snack bar.
Silva's chronicles of the takeover have become so celebrated that he's now a regular on the national lecture circuit. He spoke at a Google conference in São Paulo and at a "TED Talk" in Curitiba.
As Rio departs from its decades-long identity as the cidade partida ("divided city"), integration between the haves and have-nots is emerging as one of the major news narratives.
The city's multi-year Pacification Program (UPP)  to bring the city's favelas under municipal control is the most visible example of the integration process between the slums and sidewalks, or morro e asfalto, as Brazilians say.
Step One: Remove drug traffickers.
Step Two: Provide missing public services, like trash and electricity.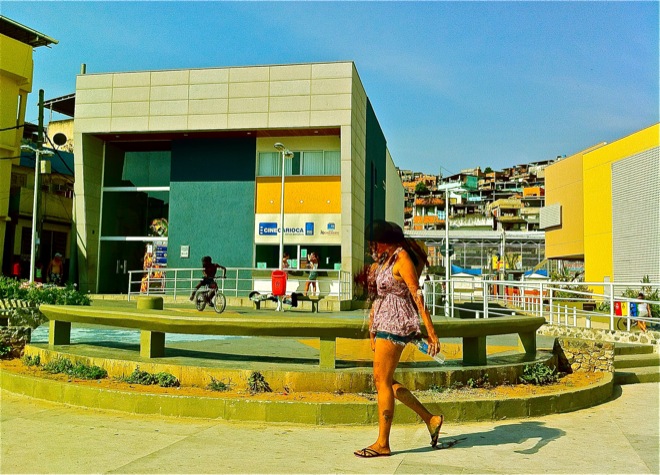 The city-sponsored Dolby Digital 3D movie theater in the Complexo de Alemao favela.
Oversimplifying slightly, consensus in Rio is that Step One is going reasonably well.
Step Two is called the "UPP Social"  Program, unfortunately misnamed because social inclusion is not the program's primary aim, as Corinne Cath explains in RioonWatch.org:
Even though the UPP Social program states an intention to increase dialogue and participation of favela residents, this is only one of its three aims, and effective participation would imply a deliberative contemplation over the other priorities. The other two aims of the UPP are (1) to improve security (for those within but also outside of the favelas) by "taking back control of the communities from the gangs," and (2) to formalize and integrate the favela communities into the formal city by providing missing public services. Rather than recognizing that effective deliberative participation is an essential ingredient for the successful implementation of these other two aims, governing officials view it as a distraction and a box to be ticked in the process of implementing other priorities.
So the city is building futuristic air gondolas and 3D movie theaters in favelas – both really cool projects – while residents are asking for things like education and health services.
Great for tourism, but what happens after the big show? From the Associated Press:
In spite of the problems, the citywide [pacification] program has been successful if judged by its official aims: to break territorial control by armed groups in specific communities, and to reduce violence, said Ignacio Cano, a researcher with Rio's state university.
But the real question is not whether the city will be safe enough for the World Cup and Olympics, but whether the program can provide long-term security, he said…. "The local impact seems to be positive, but it is limited," he said. "The (pacification units) have been created in areas of the south zone, touristic areas, middle- to high-income areas, areas connected to the World Cup and Olympic games. It doesn't go to the most violent areas, the west of the town, the north of the town and the suburbs."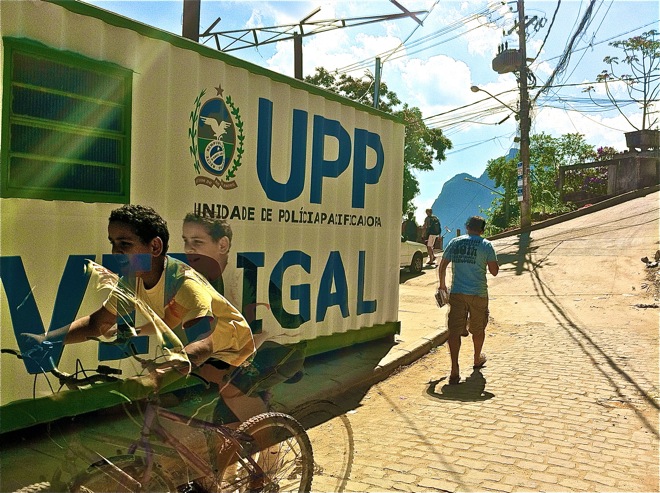 A Pacification Police outpost in gentrifying Vidigal.
Theresa Williamson, Executive Director of Catalytic Communities, an NGO that works to destigmatize Rio's favelas and "integrate them into the wider society," has direct relationships with the leadership of key favelas undergoing the pacification / integration process.
In an op-ed for The New York Times called A Missed Opportunity in Rio, Williamson explains how gentrification follows integration:
First, smaller, unknown, often peaceful [favela] communities occupying now-valuable land are forcibly evicted under the pretext of mega-event development, often with no clear justification. Residents are relocated to small, vertical, isolated public housing units two hours from the city center. There are also notable cases of evictees left homeless or starting over on newly squatted land. It is estimated that 170,000 people will be evicted "for" mega-events across Brazil.
Second, larger, well-known communities are receiving "integration" programs, mainly police pacification units. This increased police presence makes a favela safer, and thus makes the land more valuable and the rents higher. This is followed by the formalization of local businesses and payments for utilities. Next up is land title. The result: a fast track to gentrification, publicly funded under the auspices of "combating poverty" and "integrating the city."
Rio will apparently be "made safe for the Olympics" by pushing its lowest-income residents to peripheral areas, where crime is also heading. Here in Brazil, and especially in Rio, we have a tradition of inequality — and its natural consequence, crime — and it appears the upcoming mega-events will only exacerbate it.
Simon Romero writes for The New York Times that "One of the fiercest property battles is over Vila Autódromo, the settlement slated for destruction to make way for the Olympic Park."
Prime view in Vila Autodromo
Vila Autodromo is an example of the first kind of community Williamson describes: peaceful, four thousand residents, with suddenly very valuable lagoon-side views. Take a photo tour of the community in RioChromatic.
== Original photography in this post by Julie Ruvolo.