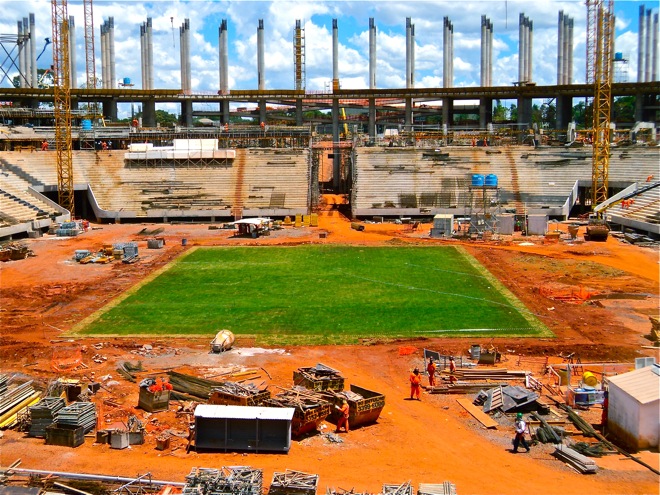 Construction delays and corruption charges be damned – if Ian McKee and Vicente Mello have their way, World Cup 2014 will go down as the first Green Cup in history.
McKee and Mello are on a mission to build the world's first LEED Platinum soccer stadium – the highest standard of sustainable building on the planet.
The Estádio Nacional Mané Garrincha in the federal capital of Brasilia is one of no less than a dozen new stadiums Brazil is racing to raise for the 2014 Games, in host cities as far-flung as the capital of the Amazons and a Bolivian border town with no soccer team.
It's the stuff Al Gore's wet dreams are made of:
The roof of the stadium, coated in a white photocatalytic membrane, literally neutralizes air pollution on contact.
An attractive open-air meshwork of pillars, the result of extensive bioclimatic analysis, will maximize natural shade and ventilation.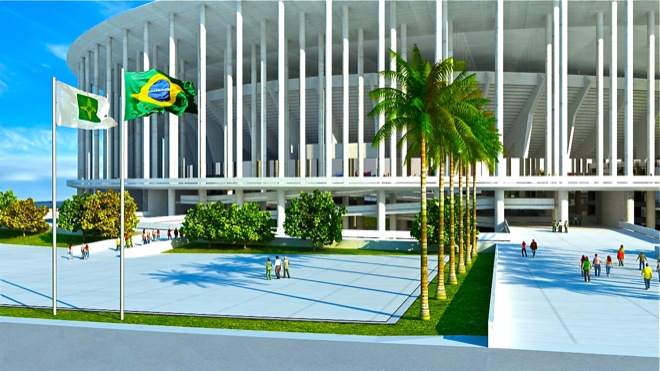 Capacity for 70,000 is excessive in a city that isn't that big on football, so the plan calls for a breathable video screen descending from the roof to wrap the upper levels, shrinking the stadium into a tighter concert arena for 27,000.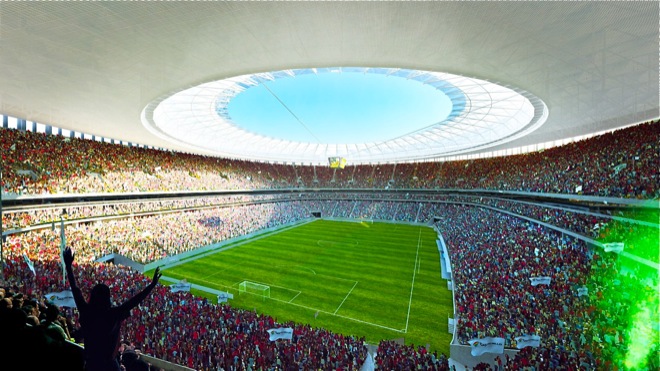 The new stadium uses 100% of materials from the old stadium, visible before construction.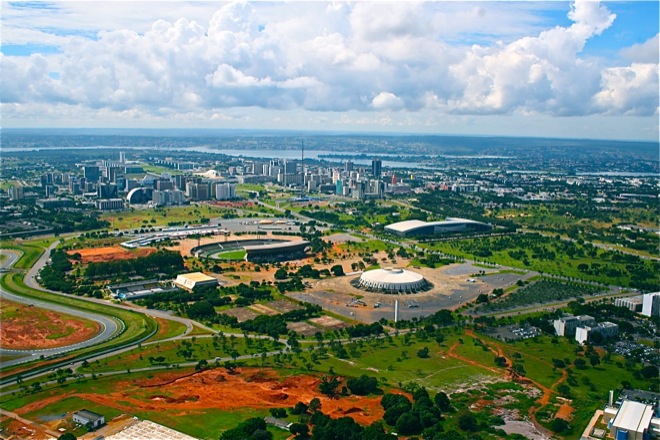 2.5 million square feet of green space surrounding the stadium will include wetlands, native fauna and ample bike parking. But since all of Brasilia's hotels are within a two-mile radius, football fans just might choose to walk.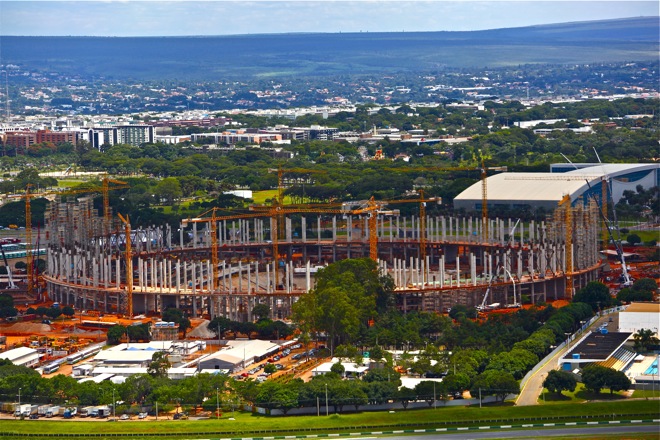 The stadium at 35% completion – further ahead last fall than most of Brazil's stadiums today.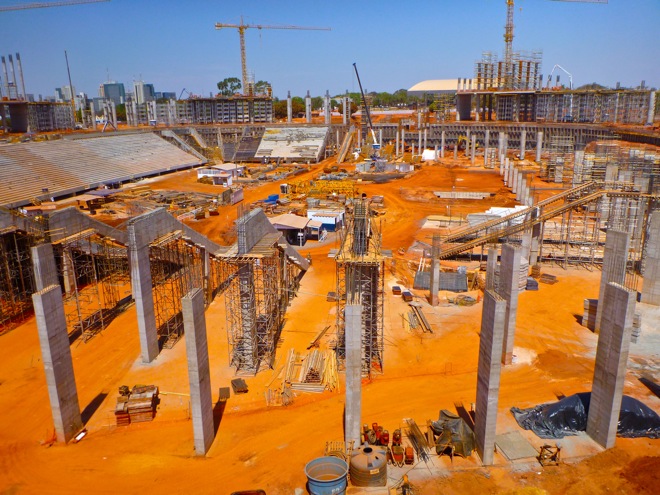 Over 169,000 square feet of solar panels will make this the largest solar installation in the country by a factor of almost three.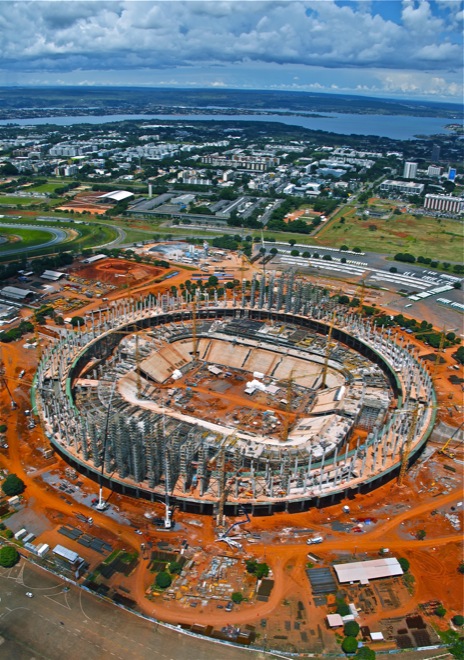 All surfaces will be have high solar reflectance, be permeable or have strategies for stormwater management. Reflecting pools will double as water retention reservoirs during the rainy season.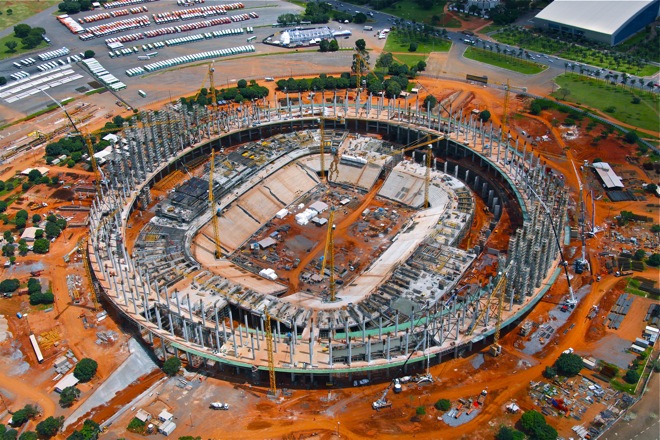 Time lapse of workers pouring concrete on the first bleacher section.
Under Construction – Time Lapse of Brasilia's New Soccer Cathedral from RioChromatic on Vimeo.
Coolest feature? You can put the this fully automated stadium in "sleep mode" when it's not in use, adding towards an estimated $4 million savings in annual operating costs.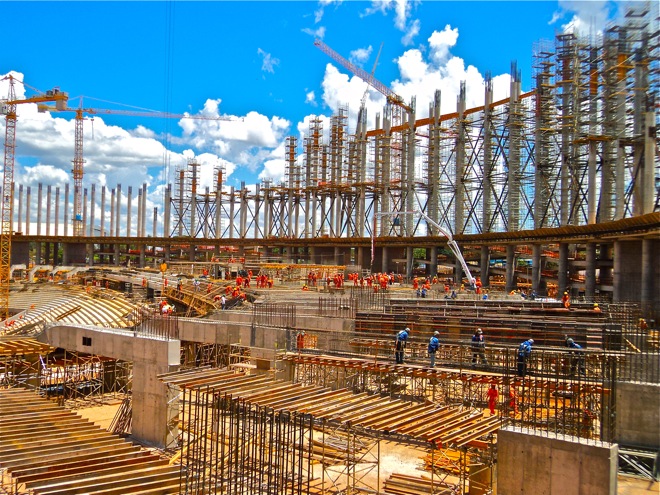 First green.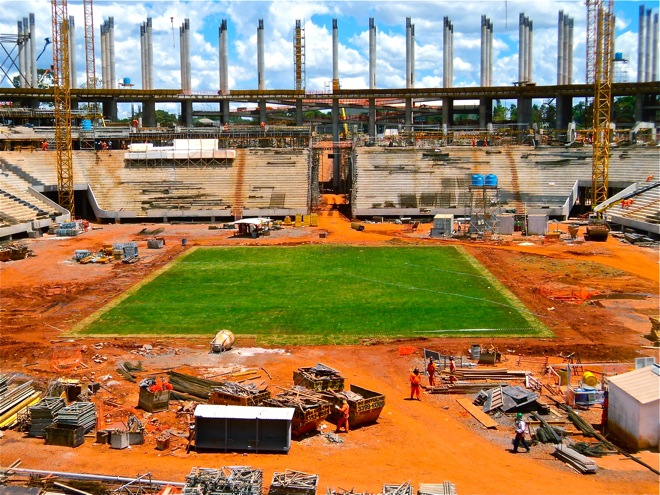 On schedule with 200 days to go.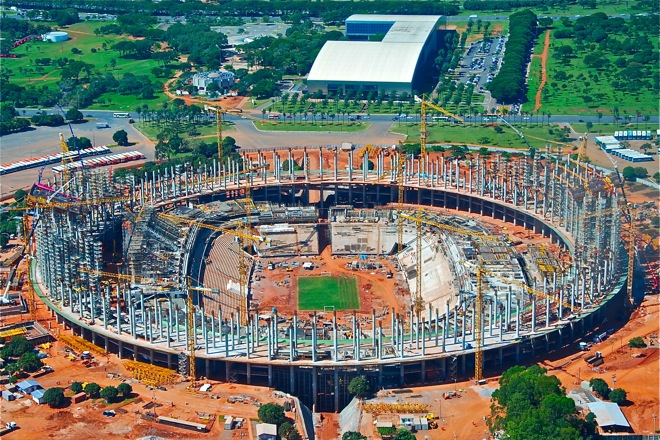 It's the furthest thing possible from the state of affairs in 2007, when a collapsed bleacher dropped seven spectators sixty feet to their deaths at a packed stadium in the port city of Salvador.
FIFA had just awarded the 2014 World Cup to Brazil, the same week Vicente Mello, a partner at sports architecture firm Castro Mello Arquitetos, published a report on the abysmal condition of Brazil's stadiums, ranking Salvador dead last.
The tragedy inspired Mello and McKee to co-author the Copa Verde plan for a green World Cup legacy, and called for all of Brazil's stadiums to upgrade their infrastructure.
Mello and McKee on site.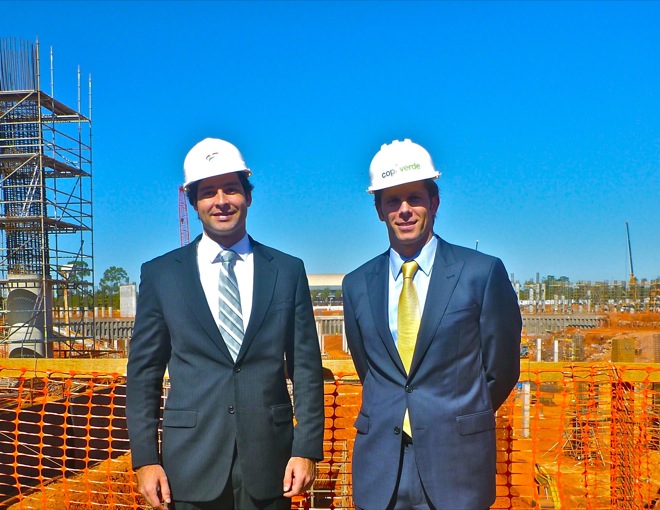 "We aren't there yet," says McKee, the LEED AP project manager, "but we're giving it our all because we believe that the pursuit [for LEED] itself serves as a change agent. Nowhere on the planet have so many people have been involved in green building large infrastructure projects all at once. I think this is causing massive change in the industry."
So far 11 of a dozen host stadiums are in the running for LEED Certification, and the Brasilia stadium has already inspired federal net metering legislation that could set the stage for a wave of small-scale solar energy production for homes and buildings across the country.
McKee says that's precisely the point: "Our goal with Copa Verde was to create a competition among host cities to build green."
Let the games begin.
Read more on the greenest soccer stadium on the planet on Forbes.com in Greed, Greenwashing and Brazil's Hail Mary for a Green World Cup.
All imagery in this post courtesy of Castro Mello Arquitetos.