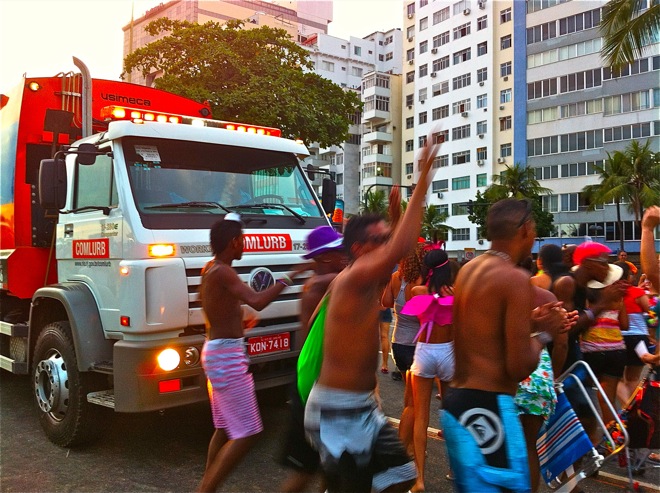 Rio just finished throwing the biggest street party on the planet. But will there be enough port-a-potties for World Cup?
After Carnaval in Rio went off with a record 5 million partiers – and without major incident – the international press had to find some more creative angles.
Reuters notes that despite an aggressive campaign against peeing in public, the people-to-port-a-potty ratio only reached one-to-5,500 at the city's biggest street parade.
Although Rio hosted twice as many partiers as the entire country is expecting for the 2014 games, The Financial Times  says there's more to hosting World Cup than "putting people up in hotels, caring for them when they get sick and cleaning up after them." Soccer, we presume.
"The festivities were, as ever, over the top," the Huffington Post reports, but was it safe enough for Paris Hilton?
With World Cup 2014 and the 2016 Olympics right around the corner, every exploding manhole and collapsed building is cause for press, and every party is a public safety dress rehearsal.
At last week's Carnaval, the performance of order was on full display.
"Operation Dry Law" ticketed drunk drivers. Operation "No Peeing in the Streets" ticketed people peeing in the streets. And the "Shock of Order" seized 3,700 cans of beer, 1,100 bottles of water, 71 coolers, costumes, spray foam and cigarettes from unlicensed street vendors.
We haven't even gotten to the hot air balloon ride.
This is Operation Carnaval.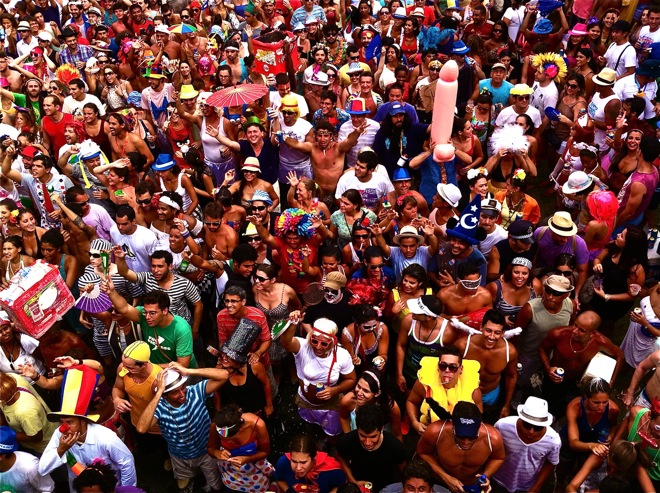 Most foreigners think of Carnaval as the mega-spectacle at the Sambadrome, but in last few years, the street party scene has grown from a handful of officially sanctioned blocos to a season of over 400 street parties that starts after New Year's and doesn't stop till the week after Carnaval.
7,400 Port-a-Potties collected the equivalent of three Olympic-size pools of pee in 2010, but the city doubled down this year with 15,000 for Operation "No Peeing in the Streets" (Operação Xixi na Rua, NÃO).
Port-a-potties at the Flying Orquestra bloco in Flamengo beach.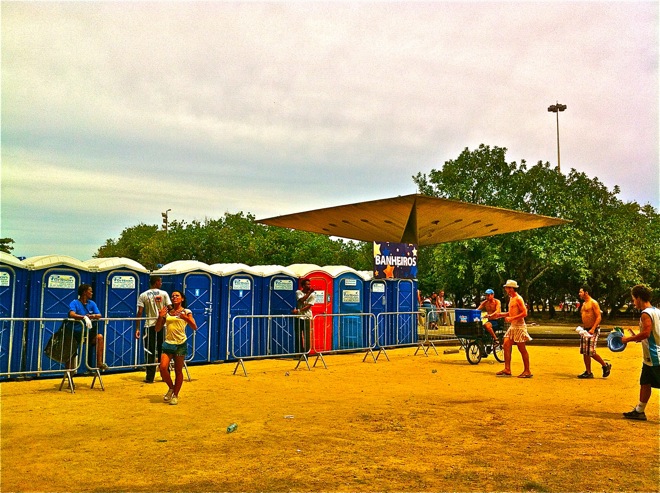 Some people preferred the pee tree.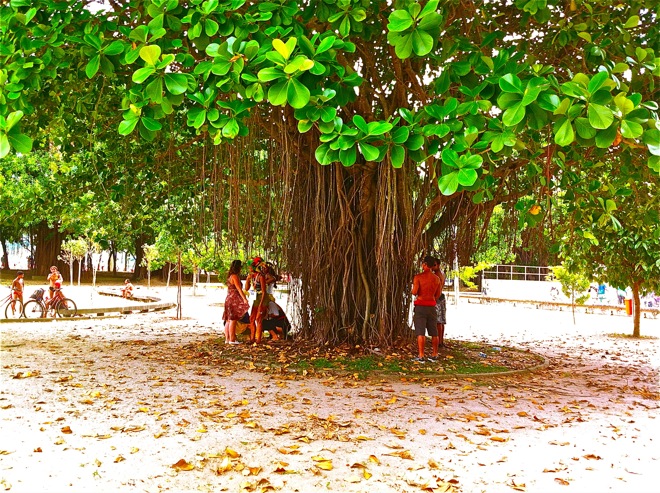 Police arrested over 1,000 people this Carnaval for peeing in the streets.
This is an official anti-pee van cleaning the sidewalk in Ipanema.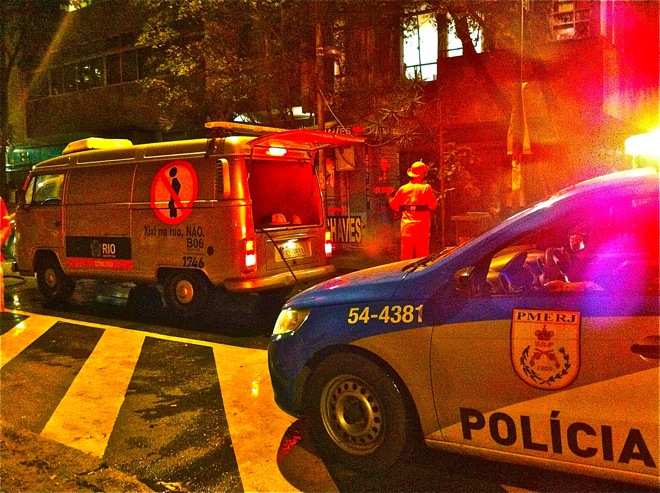 There were 400 Port-a-Potties for over 2 million people at Bola Preta, the biggest bloco of Carnaval. That's a one-to-5,500 ratio.
The Port-a-Potties "would have begun overflowing if only about 1 in 8 of the Bola Preta revellers used one," according to one local's calculation. (Also in short supply: ambulances.)
Rio's urban cleaning department, COMLURB, collected 23 tons of trash at Bola Preta and a grand total of 645 tons of trash over Carnaval.
Operation Carnaval from RioChromatic on Vimeo.
No official recycling program in sight, but an informal economy collects cans for cash redemption.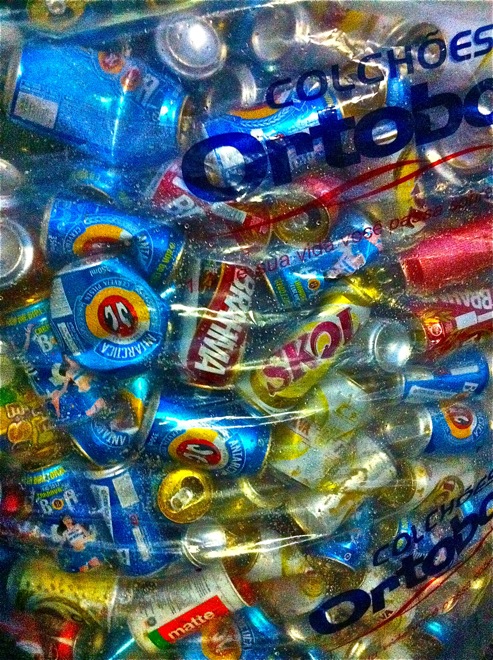 COMLURB workers are called garis. They wear iconic raver orange jumpsuits.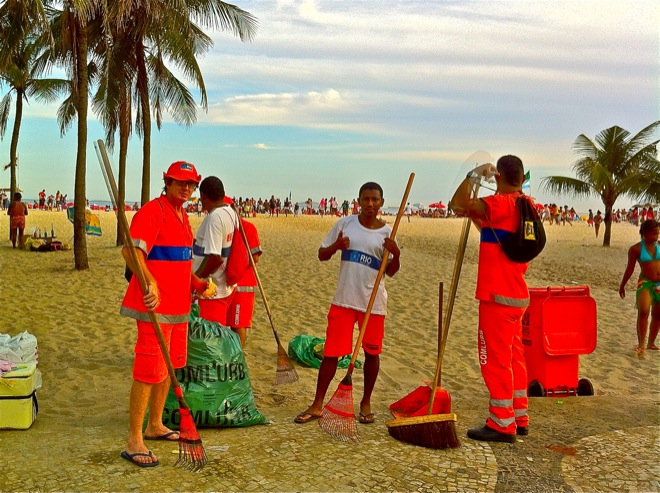 COMLURB had 1,500 garis on duty over Carnaval – that's 860 pounds of trash per gari.
Time for a beer break:
Beer Break from RioChromatic on Vimeo.
These garis are on street sweeping duty at the gay pride Banda de Ipanema bloco in Ipanema.
Banda de Ipanema saw 80,000 people (and 23 pee arrests) at its Carnaval pre-party, then paraded two more times over Carnaval.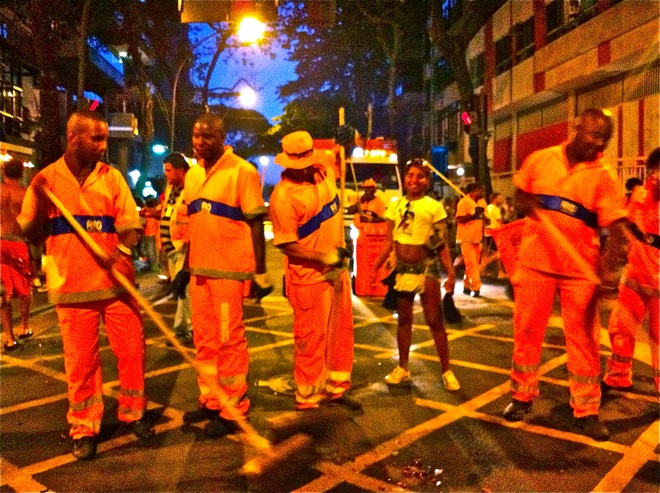 Rio's tourism secretary says a full 25% of Rio's 3 million summer tourists are LGBT, and The Washington Post says they spend double the dollars hetero tourists spend.
Operation "Carnaval Without Prejudice" (Carnaval Sem Preconceito) ran an outdoor ad campaign and TV commercials featuring samba celebrities to celebrate sexual diversity.
Lyrics: "Zero tolerance for discrimination / We all want respect and inclusion."
Nothing came close to the scale of "Operation Dry Law" (Operação Lei Seca), Rio's campaign to curb drunk driving.
There were Lei Seca stickers dotting the sidewalks, Lei Seca balloons bobbing in the lagoon formerly occupied by the World's Largest Floating Christmas Tree, and Lei Seca balloons floating over blocos.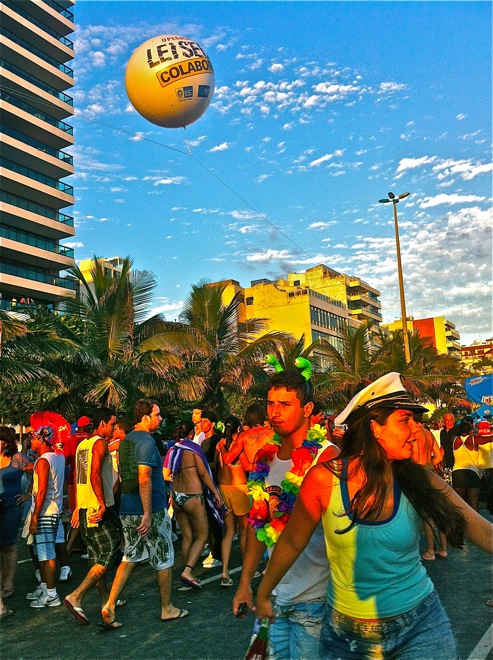 Operation Lei Seca has ticketed over 120,000 drivers in Rio since it launched at Carnaval in 2009.
Police ticketed 786 drivers in Rio this Carnaval – 13% of all the cars they pulled over during Operation Dry Law blitzes.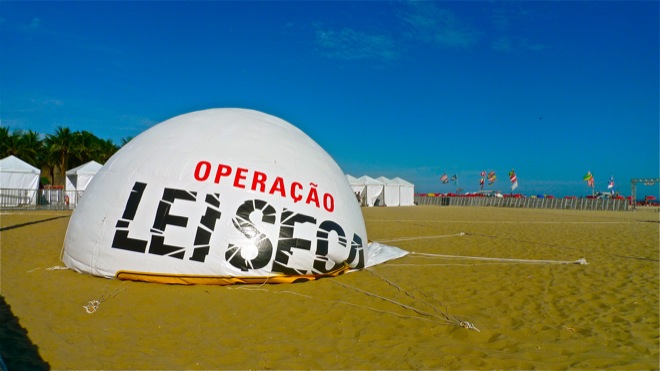 Not quite as many people as the lucky 900 who got to ride the Lei Seca hot air balloon ride in Copacabana.