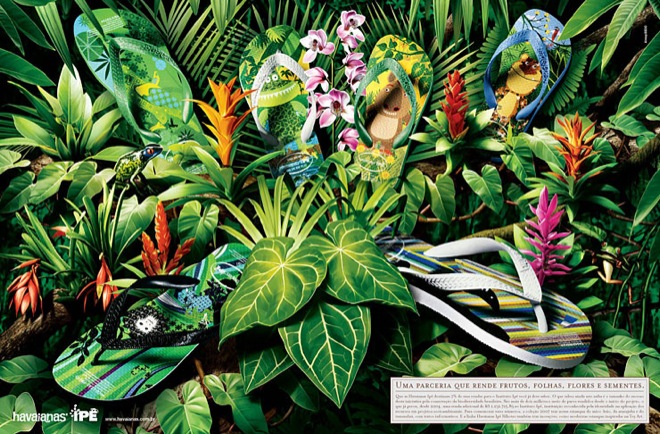 I'll take the green ones please.
Maria Prata, editor in chief of Harper's Bazaar Brasil, writes about emerging eco-consciousness in Brazilian fashion for the New York Times, from the absurdly overpriced designer surf brand Osklen to mass market Havaianas:
Havaianas makes about 200 million pairs of flip-flops each year, footwear worn by a large chunk of the Brazilian population and many international celebrities. It has just introduced Eco Havaianas, made from materials left over during its regular production. Other products include Havaianas IPÊ, created in partnership with the Institute for Ecological Research in Brazil. The design series, which bears the initials of the institute's Portuguese name, designates 7 percent of its revenue for institute research. More than 6.4 million pairs have been sold since the line was created in 2004, raising more than 3.1 million Brazilian reais, or $1.7 million. Another Havaianas flip-flop, the CI-Brazil, funds projects for the protection of local endangered species and sold, in its first year alone, 500,000 pairs.
The Havaianas brand turned 50 in 2012. Jenny Barchfield tracesa brief history from popular flip-flop to elite fashion accessory:
Last year, 210 million pairs of Havaianas were sold worldwide. Even with 15 percent of total production exported to some 80 countries, enough of the sandals were sold in 2011 for nearly every man, woman and child in Brazil.
Read more:
The Havaianas partnership with Conservation International
Treehugger on the Havaianas IPÊ launch