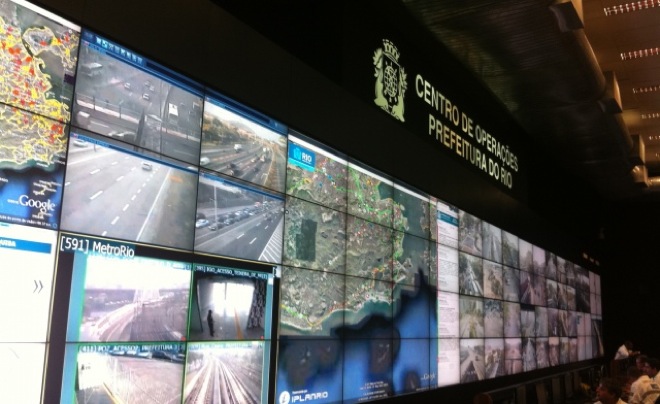 The biggest surveillance screen in Latin America spans 860 square feet in a new building called the Ops Center that most residents of Rio de Janeiro don't even know exists.
80 interchangeable digital panels project live video feeds from 450 cameras and three helicopters, plus a dizzying array of tricked-out Google Maps of schools and hospitals, car accidents with real-time traffic to the nearest hospital, and close to 10,000 GPS-tracked buses and ambulances.
There are temperature, wind, humidity, and air quality maps. Heat maps of dengue fever outbreaks.
Crisis-mode maps of high-risk landslide zones. On one map, graphic simulations predict tomorrow's weather within a 150-mile radius.
This is a flamboyant city, and municipal operations are no exception.
860 square feet of surveillance overlooking 70 municipal heads of government.
Over 30 communities at high risk of flooding get new sirens and evacuation drills. Here: evacuation teams at Mangueira community near Maracana Stadium.
Conversations and firemen at the Mangueira community evacuation drill.
Read my story on the biggest surveillance in Latin America in The Daily Beast.