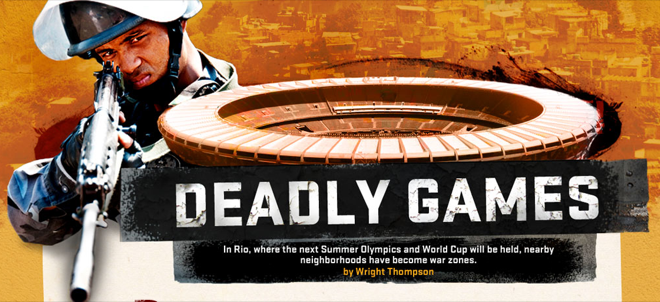 Let's call this genre favela melodrama.
In Deadly Games, ESPN writer Wright Thompson swings from a helicopter and wonders what it's like to be shot at in a post-apocalyptic picture of Rio de Janeiro gang warfare that literally opens with a burning cross and ends with a reference the devil.
Favela melodrama, popularized by Brazilian blockbusters like City of God and Elite Squad (and Fast Five, the fifth issue of an American franchise that refuses to die), is precisely the image Rio is trying to clean up in advance of World Cup 2014 and the 2016 Olympics.
The New York Times wrote this week about a raid on Rocinha, one of Rio's biggest favelas (which means "slum" or "community" depending on who you're talking to), to kick out the drug traffickers.
The raid is part of an exhaustive pacification program that began in 2008 and has involved newly trained forces and federal military intervention. Optimists see the possibility of real change in Rio's worst off communities; pessimists see temporary window dressing for the upcoming mega-sports spectacles.
Only about 40% of Rio's 1,000 favelas are controlled by traffickers; 45% are controlled by militias, groups of ex-cops, firemen and corrupt officials that make up  the city's largest source of organized crime. The remainder are independent communities, although that number should climb with the success of the pacification program.
The favela's drug kingpin was caught trying to escape in the trunk of a car and many others left before the operation began. The subsequent raid was carried out with a lot of media attention but no gunfire.
Read more:
Read Favela de Rocinha Braces for Change in RioOnWatch for a perspective on the ground in Rocinha in the days leading up to the raid.
More on RioOnWatch in The Harvard Crimson.
Another fine piece of favela melodrama in Der Spiegel's Take Back the Favelas.
Elite Squad 2: The Enemy Within gets 96% on RottenTomatoes.